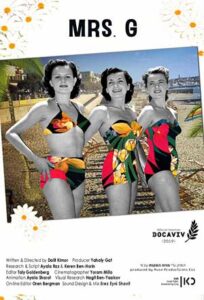 PITTSFIELD–The Berkshire Jewish Film Festival, one of the longest running film festivals in the United States, has announced its 34th season.
"Due to the coronavirus pandemic and our concern for the safety and well being of our patrons and staff the festival is going virtual for 2020" said Artistic Director Judy Seaman.
Films from around the world examining Jewish history, heritage and culture will be available online on six consecutive Mondays from July 6 through Aug.10 at 4 p.m. and 8 p.m.  This year ticket prices have been lowered to $5 per film with the option of an additional donation on line or by mail to Knesset Israel/BJFF, 16 Colt Rd., Pittsfield, Mass. 01201.
Film screenings begin with a 4 p.m. showing of "Mrs G," a documentary about the Israeli creator of the swimsuit company Gottex. The 8 p.m. option features a documentary about Robert Zuckerman, a Hollywood photographer, "Life Through A Lens" and also a documentary about the late Israeli Prime Minister Golda Meir, "Golda."
Access to the complete program, schedule of films with trailers, online box office and e-newsletter may be found at www.berkshirejewishfilmfestival.org. Information is also available at 413-445-4872, ext. 25.