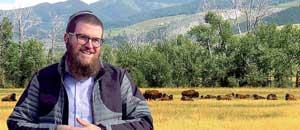 PITTSFIELD, Mass.–The Berkshire Jewish Film Festival (BJFF) continues its "winterFlicks," a livestreaming season from Dec.10 through 18, with "The Rabbi Goes West."
The documentary portrays the reactions of a Jewish community when a Chabad rabbi from Brooklyn gocaptiones to Bozeman, Montana.
Other films in the series include:
 "Space Torah" slated for Dec. 30 through Jan. 3. In 1996 astronaut Dr. Jeff Hoffman brought a small Torah scroll on board Space Shuttle Columbia. While orbiting the earth he combined his inspiration and journey with readings from the Book of Genesis.
Director and Oscar winner Caroline Link adapted Judith Kerr's semi-autobiographical "When Hitler Stole Pink Rabbit" (2019) for film, which will also be available from Dec. 30 though Jan. 3. A discussion with Link will be available on Zoom on Jan. 2.  The family film is based on Kerr'schildhood in Germany.
Information and online box office is available at berkshirejewishfilmfestival.org. When ticket purchase is selected the film may be accessed for one showing for 48 hours during the designated dates.