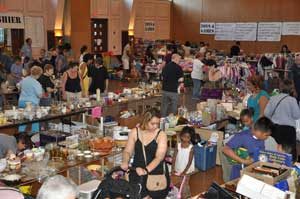 ALBANY– The annual Congregation Beth Emeth indoor garage sale at the temple,  100 Academy Rd., Albany will be held from Saturday, June 22 to Monday, June 24.
Opening night will be from 7 p.m. – 9 p.m. on Saturday, June 22. The sale will continue on Sunday, June 23 from 9 a.m. to 2 p.m., with a bag sale from 2 – 3 p.m. On Monday, June 24, an additional bag sale will be held from 4 – 7 p.m.
The sale will feature a variety of items, including housewares, jewelry, clothing, music, books, children's toys, games, sports equipment, furniture and electronics.
Admission to the sale on Saturday is $10/person. Admission will be free for the remaining days of the sale. On Sunday, bag prices will be $5, $10 and $15 and then lowered to $1, $3 and $5 on Monday. Credit cards and checks will not be accepted.
Questions may be directed to Margie Dorkin at mdorkin@nycap.rr.com.