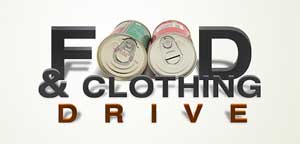 ALBANY–Congregation Beth Emeth in Albany is sponsoring a food and clothing drive through Sunday, Nov. 22, for local charities. The congregation is collecting pastas and non-refrigerated fruit juices for the Sister Maureen Joyce Food Pantry in Albany and gloves, mittens, scarves and thermal socks for St. Vincent's Food Pantry in Albany.
Donations may be dropped off in buckets outside the front door of the temple at 100 Academy Rd. between 9 a.m. and 5 p.m. Monday – Thursday; 9 a.m. – 4 p.m. on Fridays and 10 a.m. – 1 p.m. on Sundays.
Abby Nash at anash1@me.com can provide details.