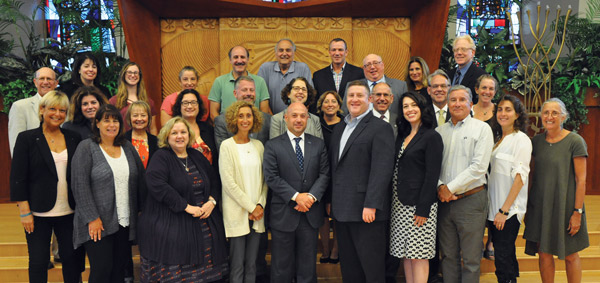 Front Row: Cantor Jodi Schechtman, Kathy Golderman, Robin Sobol, Robyn Marinstein, Andrew Safranko, Michael Lurie, Melissa Greenberg, Rabbi Scott Shpeen, Shara Siegfeld, and Debbie Sokoler .
Middle Row: Carolyn Ginsburg, Margie Dorkin, Jessica Richer, Mo Bonder, Karen Kaufman-White, Abby Nash, Jim Milstein, Steven Shrager, and Alison Johnson.
Back Row: Steve Lobel, Katherine Rosenblatt, Emily Schoenblum, Jill Hildreth, Mark Swyer, Fred Simon, Rob Kivort, Barry Davis, Julie Koenig, and Joe Schwartz.