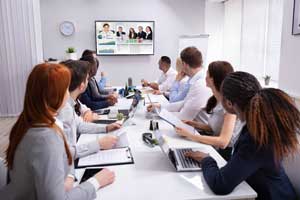 ALBANY–Congregation Beth Emeth in Albany will soon feature two more segments of its "Sisterhood Shabbat is Calling" program. The  program, which allows anyone in the community to connect to a 30-minute 'live' online video conference from home, touches on a variety of topics related to Judaism with different guest speakers. Upcoming programs will be held on Thursdays, March 5 and May 14, from 8:30 – 9 p.m.
Beth Emeth's Rabbinic Intern Alexandra Stein will discuss "Progressive Shabbat In Israel," focusing on the current social and legal landscape regarding Shabbat and the Israeli Reform Movement on March 5. Shara Siegfeld, the congregation's director of education, will lead a discussion on "Making the Shabbat D'Var Torah Accessible to All In The Family" on May 14.
"Sisterhood Shabbat is Calling," according to organizers, was created this past fall as a simple, and easy way to help families learn more about celebrating Shabbat. The learning  program is designed to help those with busy lives connect with their sisterhood friends, the community and individuals from all aspects of Jewish life  who will share their knowledge with participants .
Participants only need to have a computer, IPAD or smart phone to take part. Deb Sokoler at debbie.sokoler@gmail.com can provide details.