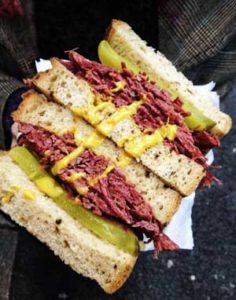 ALBANY–Congregation Beth Emeth will offer a taste of New York's Carnegie Deli for take-out on Super Bowl Sunday on Feb.7.
Diners can get take-out of everything needed to create an authentic deli meal, including hot pastrami, corned beef, sliced rye bread, sour pickles, regular size knishes, black and white cookies and cheesecake from the famous deli.
All food must be pre-ordered on the congregation's website at bethemethalbany.org by Friday, Jan. 29. Deli items may be picked up at the temple, 100 Academy Rd. in Albany from 12 to 2 p.m. on Feb. 7.
According to organizers, the food fund-raiser can help people stay home and still enjoy a feast during the game.
Deb Sokoler at dsokoler@bethemethalbany.org has information.