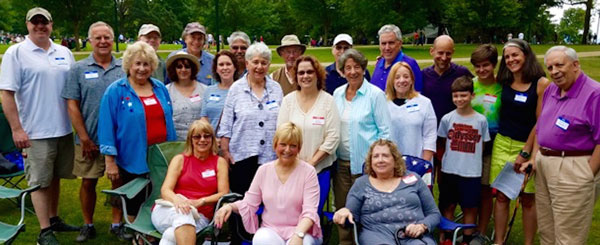 ALBANY–About 25 members of The Renaissance Group (TRG) of Congregation Beth Emeth in Albany traveled to the Tanglewood Music Center in Lenox, Mass. for a recent Shabbat Torah study led by Cantor Jodi Schechtman.
"Following her presentation and lively discussion we stayed to enjoy the rehearsal of the Boson Symphony Orchestra as well as to nosh and visit each other," said Susan Hager, co-chairwoman of TRG. The Boston Symphony Orchestra rehearsed its performance of Mendelssohn, Beethoven and Bernstein.
TRG, launched in 2015, offers social, educational and ritual opportunities to a diverse group of Beth Emeth members 50 years of age or older.
Information about TRG's upcoming events, may be obtained by contacting Hager at  susan.k.hager@gmail.com or Joe Schwartz at joeyschwartz61@gmail.com.