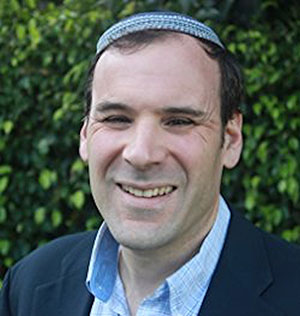 SCHENECTADY–Jerusalem Post contributor Rabbi Shalom Hammer will present, "To Begin Anew," at Beth Israel Synagogue, 2195 Eastern Parkway, Schenectady on Sunday, July 30, at 10:30 a.m. A light Israeli-syle breakfast will be served at 9:30 a.m. The Orthodox Israeli rabbi is an Israeli-American career officer in the IDF, serving in the Jewish identity branch.
Born in Queens, Hammer received his ordination from Yeshiva University, a bachelor's degree in speech and communications and a master's degree in education from Azriela Graduate School. He, and his family, made aliyah in 1990. In 2014 he founded Makom Meshutaf, an organization that advocates tolerance and unity between religious and secular Jews, through education. He teaches Judaism to secular Israelis, not forcing them into observance, but with a focus on encouraging learning about Jewish ideas and beliefs. Hammer has indicted that his service with the IDF showed him that many Israel soldiers know little about Judaism, and he is dedicated to changing that.
He has lectured in the United States, the United Kingdom, South Africa and Australia. An author of four books, Hammer also lectures at Israeli institutions including the Menachem Begin Heritage Center. He teaches at the Hesder Yeshiva affiliated with Sderot, an institution, which promotes Torah study together with service in the combat forces of the IDF.
He will relate his experiences as he traveled the border of Gaza handing out supplies and offering words of inspiration to motivate various divisions of the IDF during Operation Protective Edge.
His stories and insights connect to Jewish unity and the Zionist dream, and are relevant as the Jewish community approaches Tisha B'Av, according to organizers.
Admission is free, but donations will be accepted. Reservations are required by Monday, July 24, and may be obtained by calling the synagogue at 518-377-3700.