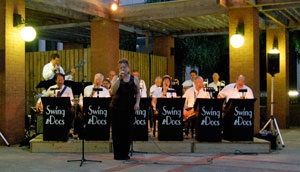 SCHENECTADY–A Capital District big band, the Swing Docs, will perform at Beth Israel Synagogue, 2195 Eastern Parkway on Sunday, Oct. 14, from 3-5 p.m. Traditional big band favorites, from Glen Miller to Count Basie, plus Latin, sing, standards, and contemporary hits will be featured with the accompaniment of vocalists.
The Docs started 20 years ago as a group of doctors and medical professionals who worked at Albany Medical Center. Today, under the direction of original members Dr. Richard Uhl (chairman of the division of orthopedics) and Dr. Stewart Sell (senior scientist and professor at Ordway Research Institute & Wadsworth Laboratory), many of the Swing Docs still work in the medical field, but there are also accountants, music teachers, graphic designers.
Sid Zack, a member of Beth Israel for over 40 years, has been a member of the Swing Docs for 11 years. Born in Worcester, Mass., he started playing the trumpet at age eight and soon played for bar mitzvahs and weddings. From 1953 to 1955 he played with the U.S. Army Band in officers' and NCO clubs,and continued to play in small bands when he left the military. After moving to Schenectady, he played with the Starlites and other small bands.
Alto saxophone player and X-ray technician Bonnie Gontier has been with the band since 1998. Her daughter Tracy Teschka, web and publications editor the NYS Retirement System, joined around 2004 as a vocalist, and occasional sax and clarinet player. Gontier's other daughter Courtney Jaskula, a substitute teacher who joined recently, plays flute and sings.
Admission is $12, which includes a Viennese dessert table during intermission. Tickets and other information may be obtained by calling Beth Israel, 2195 Eastern Parkway, at 518-377-3700.