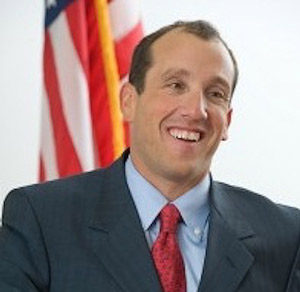 ALBANY–Bethlehem Chabad will host an evening with Justice Richard Bernstein on Thursday, May 16, beginning at 7 p.m. Bernstein will share what is expected to be a motivational message of optimism, determination and advocacy during his lecture at Bethlehem Chabad, according to organizers. The program, open to the community, will be at 393 Delaware Ave., Delmar.
Bernstein, the first blind judge elected to the Michigan Supreme Court, will relate his story. An advocate for disabled rights; he is a political science professor, radio show host, marathoner, Iron Man triathlete, and inductee in the National Jewish Sports Hall of Fame. He reports that although born blind, he chose to find meaning in his disability and has dedicated his life's work to fighting for rights for the disabled.
In one publicized case, while a practicing attorney he challenged the city of Detroit, Mich., to install wheelchair lifts in public buses, and won. Another landmark case that he won was against the University of Michigan, requiring their stadium to accommodate the disabled with seating, restrooms, concessions and parking. The justice has won awards for his legal advocacy and community work.
He is an avid runner and has completed 21 marathons. In 2008, he completed the Ironman Triathlon at the age of 34. The Ironman includes a 112-mile bike ride, 26.2-mile marathon and a 2.4-mile swim. He finished the Ironman in 14 hours and 36 minutes. On April 12, 2013, Bernstein was inducted into the National Jewish Sports Hall of Fame and Museum.
Registration is at www.bethlehemchabad.com or 518-439-3310. Fee is $15 in advance and $20 at the door.