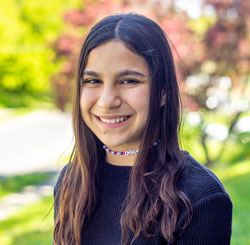 ALBANY–Malka Hecht, daughter of Rabbi Hanoch and Tzivie Hecht of Rhinebeck, was recently announced as the second place winner in the "Better 2 Write Better Together in a Box," a national Jewish essay contest based on the Better Together program.  The Better Together program brings youth together with senior citizens.
The middle school student at Maimonides Hebrew Day School in Albany wrote about her experiences with senior adults as a 6 grade student at Maimonides Hebrew Day School in its Better Together program. She will enter the 7th  grade in the fall. Twenty Maimonides students were involved with the project over the past academic year. Malka received a cash prize of $200. Judges were impressed, they said, by how the essayists reflected on their feelings about seniors, aging, and the mitzvah of caring for the elderly.
School organizers report that because of the pandemic the Better Together program became a  Better Together In A Box project. For holidays the students put together a holiday foods and activities box. Maimonides Middle School students are now "boxing up the "Spirit of Shabbat" to share with seniors. Students brainstormed on how to help share Shabbat with the elderly who may be alone and or without family and may miss the atmosphere of Shabbat particularly during the COVID 19 pandemic. Students share songs, crafts, traditions, food and tips to on how to look forward to Shabbat all week.
Maimonides high schoolers have prepared a "Crafting Jewish With Art" box.
Those seniors that want to receive a box or those that know a senior who would appreciate one are asked to call Rabbi Yossi Rubin at 518-495-0772 or e-mail maimonidesschool@gmail.com.
---
Malka's second place winning essay:
Seniors in my life
By MALKA HECHT
I love to visit seniors and make them smile! I like to sing, dance, and talk with them. The smile on their face when I visit is contagious! The friendships and connections built through the visits are so powerful. It is so much fun preparing packages and giving them to the seniors for Holidays and Shabbat. In my community we also visit to blow the shofar on Rosh Hashanah and shake the Lulav and Etrog on Sukkot.
The nursing home is like a second home for me because I go to visit my senior friends very often. The people that live there are kind and patient and so happy when we visit. When my father announces that we are going to the nursing home I get so excited and stop whatever I am doing to join him. Sometimes when I get there, I feel too shy to sing. But one quick glance at the seniors and I know the right thing to do. I sing songs for the holidays, and the seniors join in! When I leave, I feel good that I was able to add happiness to their lives.
Sometimes an elderly person would say to me, "I have no family, you are my only family." That would inspire me to keep visiting. I feel proud that I can make the seniors happy, and that I could make them smile when they call me part of their family. When someone asks me "how many siblings do you have?" I say six, but really everyone at the nursing home is my family! They treat me like one of their own family, and I like to think they are part of mine. I may think that I am making them happy but really, they are making me happy too!
My father and I walk two miles to visit our senior friends at the nursing home. One time we started walking and it began to pour. We were both drenched! My brand-new sneakers were buckets of water. My father looked a bit worried and asked if we should still go to the nursing home. I said, "Yes, of course we should go, why should we miss this great opportunity? I do not care if it is pouring rain or even snowing, I still want to go and see my friends!"
Another time that we went we forgot to visit Allen. Allen was a truly kind person, who waited for our visits and was so happy when we came. When we arrived back home, I told my father that we forgot to visit Allen and to blow the shofar for him. We had just finished walking two miles back home, but we immediately turned around and went back! We walked another two miles just because we forgot to visit Allen. Some people may feel bad for me that I had to walk eight miles that day. Not I, I love doing this important mitzvah! It is such a special opportunity for me!
I also like to visit seniors in their own homes. Wolf was a Holocaust survivor, who always waited for my visits. He lived with his son who was a nice person and together they collected old things, like cars and china dolls. He wanted to go to shul on Shabbat and liked speaking to me in Yiddish. He always called me and my sisters "kleine meidel," which means little girl. When Wolf first started coming to our shul, he seemed sad. But as he came more frequently he was so much happier. It was hard for Wolf to walk around at Shul. I would bring him a chair, cutlery and Chulent to eat at the Kiddush. I enjoyed talking to him. Wolf and his son both felt like a part of our family. They felt comfortable speaking with my father, the Rabbi, about things that were bothering them. Sadly, a few months ago Wolf passed away. We miss him very much.
Regina was another senior that we met. She was also a Holocaust survivor and became good friends with Wolf. She had a daughter but unfortunately her daughter did not visit often. My father took us to visit Regina often because he knew how lonely she was. She said she always looked forward to us coming. My father told me that visiting Regina was a great Mitzvah. I just smiled and said "a Mitzvah is a Mitzvah, you don't need something in return." One day I asked my father if we could visit Regina. My father looked at me with sadness in his eyes and said Regina had passed away. I was really heart broken when I heard this. I felt close to her. She always told me stories about her childhood and about what the Nazis did to the Jewish people, and to her very own family. She lost many friends and family. Now I know how it feels to lose someone that is so special to you.
As you can see, visiting seniors is a big part of my life. I'm so glad my school Maimonides is a part of Better Together so I get to continue my passion visiting seniors during school time too. This year due to Covid I could not physically visit my senior friends. We are not able to get together and to sing songs, dance or do arts and crafts together. We could not see each other in person, but we found other ways to stay connected. At school this year instead we had Better Together in a Box. We would write letters, draw cards, make packages for them or have zoom online meetings. It still is not like seeing them in person, but at least I could ask how their day is going. Sometimes I feel tired of packing Better Together in a Box and our teacher dropping off the packaged boxes. But then I remember their faces, and how happy they are to get packages from us. That gives me the drive to keep going. I know that they are thinking about me and I am thinking about them too.
When I feel sad or down, I think back to how much fun we had when we were together, and I begin to feel better. I miss my senior friends. It is hard for me to not see them for so long, but I know that it needs to be this way so that everybody stays safe and healthy. I hope someday very soon we can get back to the way it used to be. I hope we can get together in-person and play games, sing, and dance, and enjoy seeing each other again!