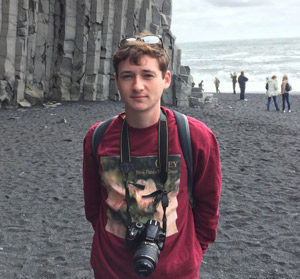 NEW YORK CITY (JTA)– A former high school classmate of Blaze Bernstein, 19, the Jewish college student found dead in a park near his parents' Southern California home, has pleaded not guilty to murder charges.
Samuel Woodward, 20, of Newport Beach, Calif., was ordered held on $5 million bail, after he issued his plea in Orange County Superior Court. It was raised from $2 million after the judge determined that the teen was a flight risk.  If he makes bail he will be under several restrictions, including GPS monitoring, a curfew and a protective order for the Bernstein family.
He will return to court on March 2, according to reports.
Woodward has been charged  with murder. The felony murder charge included a sentence enhancement for using a knife.
The Orange County Register, citing a search warrant affidavit obtained by the newspaper, reported that Bernstein had been stabbed more than 20 times, leading authorities to investigate whether the teen was killed in an act of rage. Bernstein was gay and is believed to have been pursuing a romantic relationship with Woodward.
Woodward was arrested after crime lab technicians determined that blood found on a sleeping bag in his possession belonged to Bernstein, the Register reported. The murder weapon reportedly has not been found. Woodward could face a maximum sentence of 26 years to life in state prison.
Woodward is an "avowed Nazi" and a member of Atomwaffen Division, an extremist neo-Nazi group, the ProPublica news website reported.
There was no evidence that the two were friends at the Orange County School of the Arts, where they attended high school.
Bernstein had been visiting his parents' home in Lake Forest while on winter break from the University of Pennsylvania. His body was discovered in a shallow grave in Borrego Park on Jan. 9, a week after he went missing from there. Hundreds attended a candlelight vigil in his memory after the discovery was announced.
The family announced on a website established in Blazes' memory that it will hold "#BlazeItForward: A Tribute to Blaze Bernstein and a Communal Call for Kindness" on Feb. 25 in Costa Mesa, Calif.
Blaze's mother Jeanne Pepper wrote in a recent first-person article that in the face of Blaze's murder, she and her husband "realized that we had an opportunity to set an example for people everywhere. To show them how even in the face of tragedy and loss, there is something better to concentrate on rather than bitterness, revenge, self-pity, and regret. We wanted people to embrace love, tolerance, and kindness; to do good. Our goal was to repair our broken world one child at time, one kind act at a time, one day at time. For us specifically, we decided to use the platform we were given as Blaze's parents to fulfill his destiny to make the world a better place."