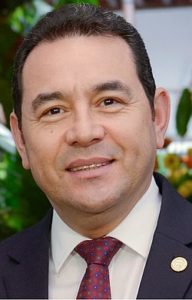 RIO DE JANEIRO (JTA)  – The president of Guatemala was honored with an award from an international Jewish organization for his decision to move his country's embassy to Jerusalem and for his unwavering support of Israel.
Jimmy Morales received the Human Rights Award from global and regional B'nai B'rith officials during a ceremony Thursday, Jan. 25, in Guatemala City.
"We praised Morales for his courage and determination for the embassy announcement and for recognizing that Jerusalem is the capital of Israel," said B'nai B'rith International Director of Latin American Affairs Eduardo Kohn. "Additionally, B'nai B'rith reiterated our commitment to human rights, the fight for democracy and our relationship with Guatemala."
Morales said that moving the embassy to Jerusalem is "the right action to take legally and historically." He added that Guatemala is "the United States' strongest ally" in combating and preventing terrorism in America.
"The Jewish people will always be grateful to Guatemala for its crucial role in Israel's birth, and for the great roles then-Ambassador Jorge García Granados and then-President Juan José Arevalo played in recognizing the Jewish state," added B'nai B'rith Latin America Vice Chair Marcelo Burman, who gave the Central American leader a shofar and a plaque highlighting his country's record of defending human rights.
B'nai B'rith International advocates for global Jewry and champions the cause of human rights around the world, including combatting anti-Semitism and bigotry. Founded in 1843, B'nai B'rith International describes itself as the oldest Jewish service organization in the world.
Morales, who enjoys a large base of conservative Christian support, visited Israel in November 2016, to mark the 69th anniversary of the Partition Plan for Palestine vote in the United Nations. Shortly after his election in 2015, Morales visited a synagogue in Guatemala City, met with members of the Jewish community and declared his desire to visit Israel.
Guatemala is home to about 1,000 Jews out of a population of 15 million.