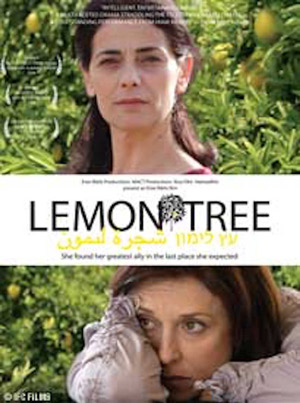 ALBANY –B'nai Sholom Reform Congregation in Albany will present "Lemon Tree," a 2008 Israeli film allegory about the lengths that a Palestinian widow must go through to stop the Israeli defense minister, her neighbor, from destroying the lemon grove that her family has cultivated for generations.
 "Lemon Tree" will be shown Saturday, Nov. 18, 7:30 p.m. at B'nai Sholom, 420 Whitehall Rd., Albany,
Set in the West Bank, "Lemon Tree" tells of Salma Zidane, who ekes out a meager living tending to her trees. When Israeli Defense Minister Israel Navon and his wife move in across the way, his security guards demand that she remove the trees, which could shelter terrorists. The defense minister's new home sits on the Israeli side next to the dividing line. Refusing, she seeks help but gets nowhere with the Palestinian Authority and the Israeli army. In desperation, she engages a lawyer, Ziad Daud, to take her case to the Israeli Supreme Court, which brings international attention. As the trees start dying while the court deliberates, the defense minister's wife regards her neighbor with sympathy.
Israeli filmmaker Eran Riklis, whose 2004 movie "The Syrian Bride" looked at tensions along the Israeli-Arab border, directed "Lemon Tree." With "Lemon Tree," The 106-minute film is in Hebrew, English and Arabic with English subtitles.
"Lemon Tree" won the "Panorama Audience Award" at the 2008 Berlin Film Festival, "Best Performance by an Actress" and "Best Screenplay" at the 2008 Asia Pacific Screen Awards, and the Women Film Critics Circle awarded it "Best Female Images in a Movie" in 2009.
The suggested admission is $5.
The B'nai Sholom office at 518-482-5283 or office@bnaisholom.albany.ny.us can provide details.