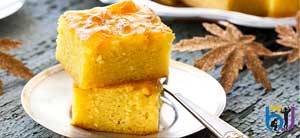 To celebrate the miraculous Maccabee victory, Boys Town Jerusalem Chef Avi Chamal recommends this golden semolina cake. Native to the Middle East (and Greece), this cake is moist, easy to prepare, and truly delectable. The school's 950 students anxiously await this very special dessert to highlight the festive Chanukah meal.
Israeli born Avi Chamal has headed the Boys Town Jerusalem kitchen for 15 years, producing freshly cooked and baked fare daily to delight the palates of the Boys Town student body, who trace their origins to 45 countries across the globe. Not every chef could meet this daunting task, but Avi's previous work experience includes having served as a senior chef at the prestigious Jerusalem King David and Dan Panorama Hotels, and clinching silver medallions at the Luxemburg and Canada Cooking Competitions.
Boys Town Jerusalem is one of Israel's premier institutions for educating the country's next generation of leaders in the fields of technology, commerce, education, the military and public service. Since its founding in 1948, BTJ has pursued its mission of turning young boys from limited backgrounds into young men with limitless futures. From Junior High through the College level, the three part curriculum at Boys Town Jerusalem – academic, technological and Torah – is designed to turn otherwise disadvantaged Israeli youth into productive citizens of tomorrow. Boys Town Jerusalem's 18 acre campus is a home away from home for its more than 950 students. More than 7,500 graduates hold key positions throughout Israeli society. For more information, please visit our website at boystownjerusalem.org.
Ingredients:
Cake:
1 cup flour
1 Tbsp. baking powder
1 cup fine semolina
1 cup ground coconut
1 cup freshly-squeezed orange juice
½ cup sugar
¼ cup canola oil
1 tsp. vanilla extract
4 eggs
½ cup slivered almonds (optional)
Syrup:
1 cup sugar
1 ½ cup water
2 cardamom seeds or 2 whole cloves
(You can replace the seeds and cloves with 1 tsp. ground cardamom or 1 tsp. ground cloves.)
Preheat oven to 340°F. Combine ingredients in mixer (except the almonds), and mix till smooth. Place in oiled 9×13- Inch baking pan; sprinkle slivered almonds on top. Bake for 30–35 minutes.
While the cake is baking, mix together the sugar, water, and spices and boil for approximately 15 minutes. Let the syrup cool. If using cardamom seeds or whole cloves, remove them from the syrup. Once cooled, pour the syrup over the cake.