Keith Kahn-Harris began noticing that articles about Jews in mainstream media were often being illustrated with photographs of strictly orthodox (Haredi) Jews despite the fact that the articles rarely discuss Haredim directly. Here Kahn-Harris discusses why he started a blog to highlight this phenomenon. The tendency to use these images, he argues, have some disturbing features: homogenizing the British Jewish community and exoticising and othering orthodox Jews.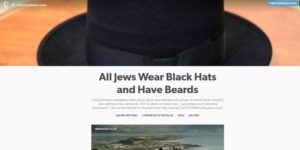 I spend a lot of my time thinking about and writing about Jews. Much of my work takes place within the confines of the Jewish community, but I also try and engage the wider world with Jewish issues. That often leads me to publishing think pieces and reviews in a range of 'non-Jewish' publications such as the The Guardian, The Independent and more.
I've been doing this for a while now and I don't exactly know when I started to notice something odd about my articles: some of them were illustrated with photographs of strictly orthodox (Haredi) Jews. I have rarely if ever discussed Haredi Judaism in my writing and, in some cases, the argument I was making excluded them completely.
Take this piece for example. Published at the height of Operation Protective Edge, in 2014, it argued that the UK Jewish community has a complex relationship with the conflict and the pro-Israel consensus that used to hold sway was in the process of fragmenting. But the Haredi community's relationship with Israel is completely different to the rest of Britain's Jewish population, and my article did not deal with this at all. Perhaps I needed to make this clear.
Even when the subject of the article would seem to fit a photo of Haredim a bit better – as in this piece on the possibility of a violent attack on UK Jews – the illustration is misleading about the nature of UK Jewry. After all, the UK Haredi population is, despite a rapid growth rate of about 4% per annum and a population of somewhere between 30-60,000, is still a minority within the 300,000 strong UK Jewish population. They live lives that are largely separate from the rest of the Jewish community and respond to Jewish concerns in a very different way.
To read the complete story, please click here.