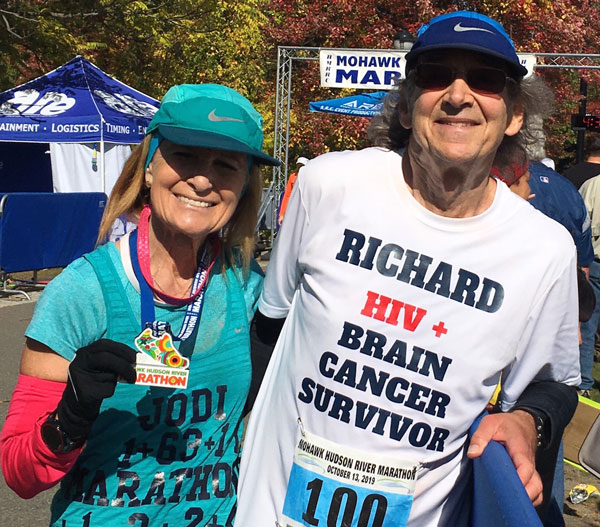 Richard Brodsky, right, and his wife of 39 years, Jodi Brodsky of Atlantic Beach, N.Y., finished the recent Mohawk Hudson Marathon in a time of 4:32:45 and 3:49:41. Richard finished 4th in his age group and Jodi finished 1st in hers.  It was his 66th marathon.
Richard Brodsky was diagnosed HIV-positive in 1997 and in 2002, he had a seizure and the former architect was then diagnosed with terminal brain cancer and given a projected 2-4 years to live. Today, Brodsky, age 67, claims that people, even those living with HIV and cancer, can reverse their aging process.
He has become an activist and with his marathon runs hopes to raise awareness to the fact that millions of people need not die from AIDS every year and in 2004 the Richard M. Brodsky Foundation was established.
Why run in Albany… aren't there marathons closer to home? Brodsky replied, "Governor Cuomo has a plan to end the AIDS epidemic in NY State by 2020. Wouldn't it be great if other governors and our federal government focused their efforts on helping people with all illnesses. Wouldn't it be great if our leaders could place saving lives as our #1 priority?"
Says Brodsky, "I know I don't fit the profile to be running marathons with HIV and brain cancer. I'm 20 pounds overweight for a marathon runner and I should be 20 years younger. In the past two years I ran 10 marathons including my first Boston Marathon."
Information about the Foundation, 14th annual World AIDS Marathon in Kenya, 5K AIDS / Cancer Run / Walk in America may be obtained at the www.richardmbrodsky.org, www.worldaidsmarathon.com, www.5kaidscancer.com and www.trebloon.com.