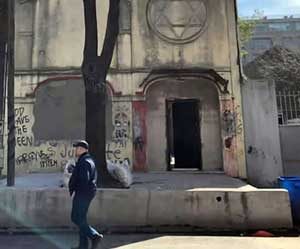 By YEHUDA SUGAR
(Chabad.org via JNS)  – Its hallowed walls smeared with sordid anti-Semitic graffiti after being taken over by squatters for the past two decades, one of Buenos Aires's oldest synagogues has been reclaimed through the efforts of a local Chabad-Lubavitch emissary, backed by an order of law issued by a municipal judge.
The synagogue, which opened in 1907 as one of the first in Argentina, is located in the La Boca area, the city's original port, where its first European Jewish immigrants settled.
20 Years Of Absence
Rabbi Shneur Mizrahi, who co-directs a Chabad center and another synagogue in the nearby Barracas area of the Argentinian capital with his wife, Abigail, celebrated the legal victory in an emotional prayer service, when the Torah was read for the first time in decades against the backdrop of a destroyed holy ark and cracked synagogue walls, still covered in anti-Jewish epithets.
A mezuzah was affixed to the synagogue entrance by Rabbi Tzvi Grunblatt, director of Chabad-Lubavitch in Argentina, followed by the morning prayer service and Torah reading.
The property, abandoned nearly 20 years ago, had been taken over unlawfully upon the death of its caretaker by a group who turned it into an underground club, calling it "The House of Stars" cultural center in an apparent mockery of existing Stars of David. "For 20 years, they had parties, there were drugs, and two people died there," reported Mizrahi.
"The law in Argentina is that whoever gains possession of a property, it is hard to make them leave," he said. The miracle, related the rabbi, is that after failed attempts to work out the situation amicably outside of court, "the judge made an order to evict them."
New Doors, Mezuzahs
City police and security cleared the building following orders from the Justice Ministry, based on a lawsuit filed by Mizrahi.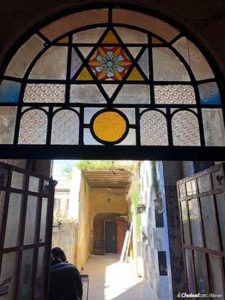 The building was recovered "due to the joint efforts of the Public Prosecutor's Office of the city, the city's Ministry of Justice and Security, and Chabad Lubavitch of Argentina," Deputy Secretary of Justice Hernan Najenson said in a statement.
Mizrahi said the first order of business of an estimated $300,000 restoration process was to put up a strong new door to guard against further intrusion. The next step was to invite all who helped in the successful campaign to participate in the ceremonious mezuzah-hanging for continued spiritual protection.
The rabbi noted that a 36-hour fund-raising drive for the overall project is scheduled to launch on Sept. 10.
This story originally appeared on Chabad.org/News.