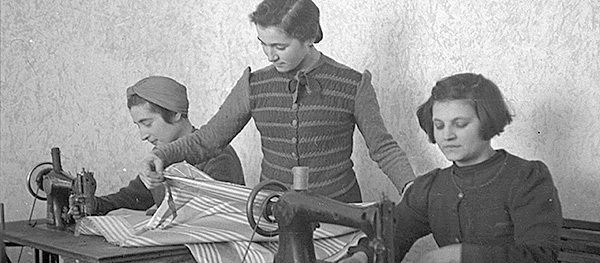 Congregation Berith Sholom, Temple Beth El, and the Nassau Synagogue will sponsor a one-day bus trip on Sunday, July 16, to the Museum of Fine Arts (MFA) in Boston to view the photography exhibit "Memory Unearthed: The Lodz Ghetto Photographs of Henryk Ross."
The bus will leave and return from Crossgates Common in Albany. After touring the MFA exhibit, participants will have a guided tour of the historic Vilna Shul on Beacon Hill, and free time to explore the New England Holocaust Memorial and/or Faneuil Hall.
Organizers report that according to the Museum of Fine Arts:
Ross was among those confined to the Lodz Ghetto in 1940 and he was put to work by the Nazi regime as a bureaucratic photographer for the Jewish Administration's Statistics department. Ross buried his negatives in 1944 in an attempt to preserve the historical record of what had happened in Lodz. As one of the 877 recorded survivors of the ghetto, Ross returned for the negatives after Lodz's liberation, discovering that more than half of the original 6,000 remained intact.
"Memory Unearthed" presents more than 200 of Ross's photographs The images are accompanied by artifacts, including Ross's own identity card, and ghetto notices. An album of contact prints, handcrafted by Ross and shown in its entirety as the centerpiece of the exhibition, serves as a summation of his memories, capturing his personal narrative.
The cost of the trip, which excludes lunch and local transportation, is $65 per adult and $47 for those under age 17. Payment is due by June 23 to Congregation Berith Sholom.
Information on how to make a reservation may be obtained from Margo Singer at 518-463-8801.
The Jewish Federation of Northeastern NY has made a contribution to cover limited scholarships. Those interested are asked to contact their congregation for details.
##