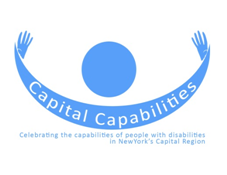 SCHENECTADY—The Schenectady Jewish Community Center (SJCC) will host the fourth annual Capital Capabilities on Sunday, May 7, from 1 – 4 p.m., at the Center, 2565 Balltown Rd.
Visitors and dignitaries including Honorary Co-Chairmen Assemblyperson Angelo Santabarbara and Assemblyperson Phil Steck, will note the artistic talents of people with disabilities and their annual gift to the SJCC.
The family-friendly free event, using the theme of chocolate and celebrating mothers, will feature the unveiling of 2017 Community Project, opportunities to make cards and flower arrangements for Mother's Day, cooking and baking demonstrations, an arts and crafts fair, a cupcake sculpture display, an interactive mosaic project, and therapy dogs.
Keynote speaker Michele Juda, executive director of parent to parent, will discuss "Parenting a Child with Disabilities."
Capital Capabilities (CapCap) is an alliance of individuals and organizations that work to engage and enlighten the abled community about people with disabilities. CapCap Community Partners include Congregations Agudat Achim, Beth Israel, and Gates of Heaven, Living Resources, Office for People With Developmental Disabilities (OPWDD), Schenectady, ARC, Schenectady JCC, Wildwood Programs, and YWCA Schenectady.
According to organizers, The annual Capital Capabilities event at the Schenectady JCC is an opportunity to meet the CapCap partners, experience demonstrations and workshops conducted by CapCap representatives, and learn about resources that are available in the community.
Mark Weintraub at 518-377-8803 or markw@schenectadyjcc.org can provide information about CapCap.