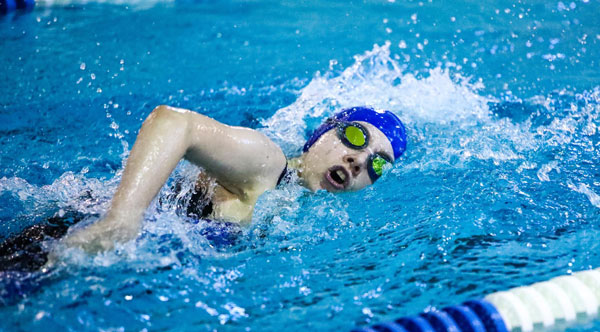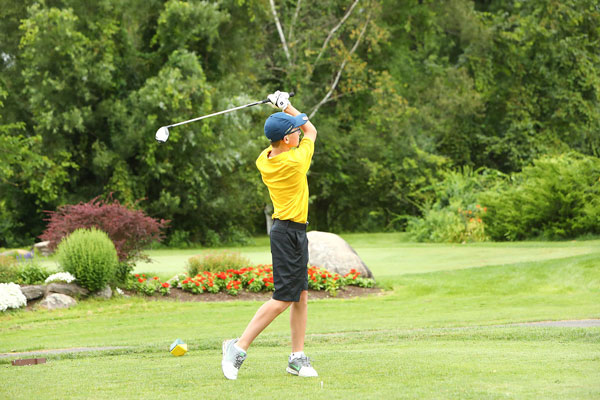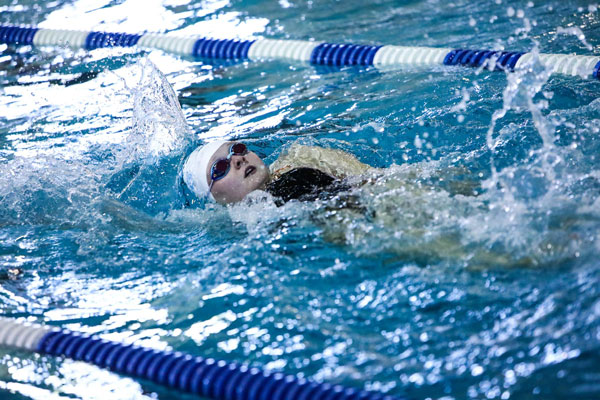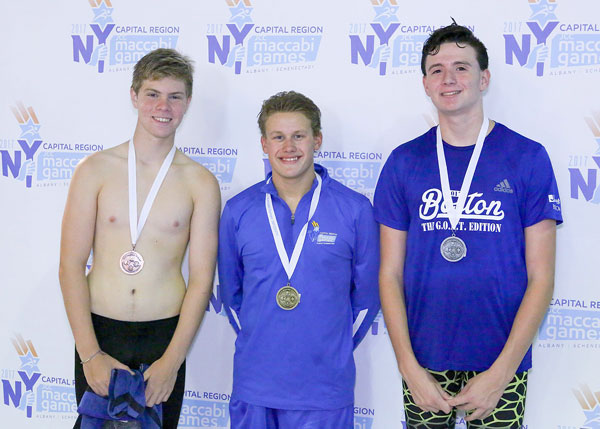 The Albany/Schenectady delegation won 87 medals (40 gold, 31 silver, 16 bronze) during the recent Capital Region Maccabi Games. This was a record number of wins for the delegation.
Local winners in the Games were: Yannai Arazi (1 Silver, Tennis; Ballston Lake), Ben Berin (1 Gold, 1 Silver, 1 Bronze, Swimming; Delmar), David Berin (2 Gold, 7 Silver, 3 Bronze, swimming; Delmar), Elijah Feret (11 Gold, 2 Silver, swimming; Niskayuna), Nathan Gach (3 Gold, 1 Silver, golf; Loudonville), Elah Ginsburg (2 Gold, 3 Silver, 3 Bronze, swimming; Troy), Danille Huli (1 Gold, tennis; Delmar), Yam Hararah (2 Bronze, swimming; Israel), Adina Kligerman (1 Gold, 3 Silver, 1 Bronze, swimming; Albany), Rebekah Kuschel (1 Gold, 1 Silver, 1 Bronze, swimming; Albany), Ethan Lampert (1 Silver, tennis; New Hartford), Brogan Monroe (5 Gold, 6 Silver, 1 Bronze, swimming; Albany), Eva Sheffer (2 Gold, 3 Silver, 4 Bronze, swimming; Clifton Park), and Natasha Sheffer (11 Gold, 2 Silver, swimming; Clifton Park).
More Than Athletics
In addition to winning gold, silver, and bronze medals for athletics, some participants earned medals for modeling the midot —the values that embody the spirit (ruach) of being a JCC Maccabi participant. See story on Page 16.
According to organizers of the games, the JCC Maccabi Games serve a broader purpose than just medaling. They promote community involvement, teamwork and pride in Jewish heritage. Many of the 700 Maccabi participants gave back to this community through JCC Cares, a day dedicated to acts of tikkun olam — repairing the world. As part of JCC Cares Day, participants packed lunch bags for homeless adults at Capital City Rescue Mission; decorated cards to accompany the annual Equinox Thanksgiving day meals provided to homeless and homebound individuals; packed literacy bags and weekend grocery bags for children served by Girls, Inc., Trinity Alliance and Catholic Charities Sunnyside Child Development Center; created Rosh Hashanah gift bags and decorated Purim Shalach Manot bags for residents of the Daughters of Sarah Senior Community; and packed welcome bags for children in the Equinox Domestic Violence Shelter and for homeless and runaway teens at the Equinox Youth Shelter.
Volunteers Impress
The Capital Region JCC Maccabi Games, which were held Aug 6, to 11, were presented by Albany Medical Center. The Olympic-style sporting competition for Jewish teens, 13 to 16 years kicked off with an energy-filled and emotional opening ceremony at the Times Union Center in Albany that included a parade of athletes, remarks from dignitaries including the games' Honorary Chairman U.S. Congressman Tonko, an ROTC Color Guard, a torch lighting ceremony, a performance by The Maccabeats, and a tribute to the Israeli athletes killed at the Munich Olympics in 1972.
Twenty-one delegations from a variety of communities including Mexico, Canada and Israel took part in the Games competing in ice hockey, basketball, swimming, soccer, tennis, golf and baseball at venues throughout Albany County.
Most of the Israeli participants were first time JCC Maccabi Games attendees and for many, this was their first trip to the U.S.  "(Capital Region) people are lovely and they make everyone feel at home," said Ari Iny, the Israeli delegation head.  "I'm so impressed that the entire community came out to support the Games and that so many volunteers have put in so many hours of the day to make sure that the athletes have a good time."
"I have never felt more proud of be a part of our local Jewish community," said Eric Medved, 2017 Capital Region JCC Maccabi Games sports commissioner. "We were able to play all of the originally scheduled competitions without fail! I cannot tell you how impressed I am with all of the sports management and sports administrative volunteers for how tirelessly they worked all week in making the meet look so effortless and professional."
Bringing the 2017 JCC Maccabi Games to the community was a joint effort of the staff and volunteer leadership of the Sidney Albert Albany JCC and the Robert and Dorothy Ludwig Schenectady JCC. Five hundred seventy-five volunteer host families and 700 event volunteers helped make the Games happen.
The Albany County Convention and Visitors Bureau has estimated that the Games generated more than $1.5M in direct spending in the region.
Check out who (and from where) received other medals here: Photos from the 2017 Capital Region JCC Maccabi Games may be purchased from the photographer. Click here to visit his site. Follow instruction : "Click here to enter store" and enter access code: 4774222.

---

Teen athletes amass medals at Capital Region Maccabi Games
Medals were won from members of the 21 delegations, including U.S. teams from along the East Coast and as far as away as Fort Lauderdale, Fla. and Los Angeles, Calif. and international teams representing Israel, Canada and Mexico. Competitions were in ice hockey, basketball, swimming, soccer, tennis, golf and baseball at venues throughout Albany County.
The Jewish World was told that medal winners included:
Baseball (Boys U14)
East Hills-Sid Jacobson (GOLD), Fort Lauderdale (SILVER), South Jersey/Central New Jersey (BRONZE)
Basketball (Girls)
Central New Jersey (GOLD), Fort Lauderdale (SILVER), Israel (BRONZE)
Basketball (Boys U14)
JCC on the Hudson (GOLD), Fort Lauderdale (SILVER), Israel (Blue) (BRONZE)
Basketball (Boys U16)
Greater Washington (GOLD), Kings Bay Y (White) (SILVER), JCC on the Hudson (BRONZE)
Golf (Boys)
Low Gross:                    Gabriel Schulefand (GOLD, Buffalo)
Low Net:                       Eitan Wernick  (GOLD, Fort Lauderdale), Nathan Gach (SILVER, Albany-Schenectady), Ari Hilibrand (BRONZE, Philadelphia)
Closest to the pin:           Eitan Wernick (GOLD, Fort Lauderdale)
Longest drive:                 Nathan Gach (GOLD, Albany-Schenectady)
2-man scramble:              GOLD: Gabriel Schulefand (Buffalo) and Nathan Gach (Albany-Schenectady);
SILVER: Eitan Wernick (Fort Lauderdale) and Ari Hilibrand (Philadelphia)
Ice Hockey (Boys)
Fort Lauderdale (GOLD), East Hills-Sid Jacobson (SILVER), Greater Washington (BRONZE)
Soccer (Boys U16)
LA Valley (GOLD), Boston (SILVER), East Hills-Sid Jacobson (BRONZE)
Soccer (Boys U14)
Mexico (White) (GOLD), LA Valley/ JCC on the Hudson (SILVER), Mexico (Blue) (BRONZE)
Swimming
50 Freestyle (Girls 12 -14):
Sheffer (GOLD, Albany-Schenectady), A. Jaffe (SILVER, Pittsburgh), E. Sheffer (BRONZE, Albany-Schenectady)
50 Freestyle (Boys 12-14):
Sultanik (GOLD, Philadelphia), D. Berin (SILVER, Albany-Schenectady), J. Gorgush (BRONZE, Buffalo)
50 Freestyle (Girls 15-16):
Difabrizio (GOLD, Central New Jersey), B. Monroe (SILVER, Albany-Schenectady), R. Rouff (BRONZE, Cherry Hill, NJ)
50 Freestyle (Boys 15-16):
S, Welks (GOLD, Harrisburg), N. Andriyets (SILVER, Buffalo), D. Donaldson (BRONZE, Central New Jersey)
100 Freestyle (Girls 12-14):
Sheffer (GOLD, Albany-Schenectady), A. Jaffe (SILVER, Pittsburgh), H. Woren (BRONZE, Harrisburg)
100 Freestyle (Boys 12 -14):
Sultanik (GOLD, Philadelphia), D. Berin (SILVER, Albany-Schenectady), D. Suckerman (BRONZE, Boston)
100 Freestyle (Girls 15-16):
Gery (GOLD, Cherry Hill, NJ), R. Difabrizio (SILVER, Central NJ), E. Ginsburg (BRONZE, Albany-Schenectady)
100 Freestyle (Boys -15-16):
Welks (GOLD, Harrisburg), A. Abrams (SILVER, Stamford), M. Yoffe (BRONZE, Harrisburg)
200 Freestyle (Girls 12-14):
Sheffer (GOLD, Albany-Schenectady), H. Woren (SILVER, Harrisburg), A. Jaffee (BRONZE, Pittsburgh)
200 Freestyle (Boys 12 -14):
Feret (GOLD, Albany-Schenectady), J. Sultanki (SILVER, Philadelphia), B. Gendron (BRONZE TIE, Philadelphia), J. Gorgush (BRONZE TIE, Buffalo)
200 Freestyle (Girls 15-16):
Gery (GOLD, Cherry Hill, NJ), R. Difabrizio (SILVER, Central NJ), A. Kilgerman (BRONZE, Albany-Schenectady)
200 Freestyle (Boys -15-16)
Abrams (GOLD, Stamford), M. Yoffe (SILVER, Harrisburg), S. Gavrilov (BRONZE, Kings Bay Y)
500 Freestyle (Girls 12-14):
Sheffer (GOLD, Albany-Schenectady), E. Sheffer (SILVER, Albany-Schenectady), A. Abrams (BRONZE, Stamford)
500 Freestyle (Boys 12 -14):
Feret (GOLD, Albany-Schenectady), D. Berin (SILVER, Albany-Schenectady), J. Gorgush (BRONZE, Buffalo)
500 Freestyle (Girls 15-16):
Gery (GOLD, Cherry Hill, NJ), E. Stein (SILVER, Harrisburg)
500 Freestyle (Boys -15-16)
Abrams (GOLD, Stamford), M. Yoffe (SILVER, Harrisburg), A. Polak (BRONZE, Philadelphia)
50 Breaststroke (Girls 12 -14):
Jacobson (GOLD, Harrisburg), A. Oppenheim (SILVER, Boston), I. Rubin (BRONZE, Buffalo)
50 Breaststroke (Boys 12 -14):
Berin (GOLD, Albany-Schenectady), J. Sultanik (SILVER, Philadelphia), D. Suckerman (BRONZE, Boston)
50 Breaststroke (Girls 15-16):
Monroe (GOLD, Albany-Schenectady), E. Wexler (SILVER, Buffalo), E. Ginsburg (BRONZE, Albany-Schenectady)
50 Breaststroke (Boys 15-16):
S.Welks (GOLD, Harrisburg), A. Arthur (SILVER, Stamford), S. Gavrilov (BRONZE, Kings Bay Y)
100 Breaststroke (Girls 12 -14):
Jacobson (GOLD, Harrisburg), E. Sheffer (SILVER, Albany-Schenectady), A. Oppenheim (BRONZE, Boston)
100 Breaststroke (Boys 12 -14):
Sultanik (GOLD, Philadelphia), D. Berin (SILVER, Albany-Schenectady), D. Suckerman (BRONZE, Boston)
100 Breaststroke (Girls 15-16):
Monroe (GOLD, Albany-Schenectady), A. Gery (SILVER, Cherry Hill, NJ), E. Wexler (BRONZE, Buffalo)
100 Breaststroke (Boys 15-16):
Arthur (GOLD, Stamford), D. Donaldson (SILVER, Central New Jersey), S. Welks (BRONZE, Harrisburg)
200 Breaststroke (Girls 12 -14):
Jacobson (GOLD, Harrisburg), A. Oppenheim (SILVER, Boston), I. Rubin (BRONZE, Buffalo)
200 Breaststroke (Boys 12 -14):
Sultanik (GOLD, Philadelphia), E. Feret (SILVER, Albany-Schenectady), D. Suckerman (BRONZE, Boston)
200 Breaststroke (Girls 15-16):
Monroe (GOLD, Albany-Schenectady), A. Kilgerman (SILVER, Albany-Schenectady), E. Wexler (BRONZE, Buffalo)
200 Breaststroke (Boys 15-16):
Arthur (GOLD, Stamford), S. Welks (SILVER, Harrisburg), B. Gochin-Lyon (BRONZE, LA Valley)
50 Backstroke (Girls 12 -14):
Sheffer (GOLD, Albany-Schenectady), H. Woren (SILVER, Harrisburg), H. Friedlander (BRONZE, Pittsburgh)
50 Backstroke (Boys 12-14):
Feret (GOLD, Albany-Schenectady), D. Berin (SILVER, Albany-Schenectady), B. Gendron (BRONZE, Philadelphia)
50 Backstroke (Girls 15-16):
Gery (GOLD, Cherry Hill, NJ), R. Difabrizio (SILVER, Central New Jersey), R. Rouff (BRONZE, Cherry Hill, NJ)
50 Backstroke(Boys 15-16):
Polak (GOLD, Philadelphia), D. Donaldson (SILVER, Central New Jersey), A. Abrams (BRONZE, Stamford)
100 Backstroke (Girls 12 -14):
Sheffer (GOLD, Albany-Schenectady), I. Jacobson (SILVER, Harrisburg), E. Sheffer (BRONZE, Albany-Schenectady)
100 Backstroke (Boys 12-14):
Suckerman (GOLD, Boston), D. Berin (SILVER, Albany-Schenectady), E. Ginsburg (BRONZE, Toronto)
100 Backstroke (Girls 15-16):
Gery (GOLD, Cherry Hill, NJ), R. Difabrizio (SILVER, Central New Jersey), R. Rouff (BRONZE, Cherry Hill, NJ)
100 Backstroke(Boys 15-16):
Polak (GOLD, Philadelphia), L. Cohain, (SILVER, LA Valley), G. Giterman (BRONZE, Kings Bay Y)
200 Backstroke (Girls 12 -14):
Jacobson (GOLD, Harrisburg), E. Sheffer (SILVER, Albany-Schenectady), H. Freidlander (BRONZE, Pittsburgh)
200 Backstroke (Boys 12-14):
Feret (GOLD, Albany-Schenectady), D. Suckerman (SILVER, Boston), D. Berin (BRONZE, Albany-Schenectady)
200 Backstroke (Girls 15-16):
Gery (GOLD, Cherry Hill, NJ), B. Monroe (SILVER, Albany-Schenectady), R. Rouff (BRONZE, Cherry Hill, NJ)
200 Backstroke(Boys 15-16):
Cohain, (GOLD, LA Valley), G. Giterman (SILVER, Kings Bay Y)
50 Butterfly (Girls 12 -14):
Sheffer (GOLD, Albany-Schenectady), A. Jaffe (SILVER, Pittsburgh), A. Abrams (BRONZE, Stamford)
50 Butterfly (Boys 12-14):
Sultanik (GOLD, Philadelphia), E. Feret (SILVER, Albany-Schenectady), D. Berin (BRONZE, Albany-Schenectady)
50 Butterfly (Girls 15-16):
Difabrizio (GOLD, Central New Jersey), B. Monroe (SILVER, Albany-Schenectady, E. Ginsburg (BRONZE, Albany-Schenectady)
50 Butterfly (Boys 15-16):
Arthur (GOLD, Stamford), M. Yoffe (SILVER, Harrisburg), S. Gavrilov (BRONZE, Kings Bay Y)
100 Butterfly (Girls 12 -14):
Abrams (GOLD, Stamford), N. Sheffer (SILVER, Albany-Schenectady), A. Jaffe (BRONZE, Pittsburgh)
100 Butterfly (Boys 12-14):
Feret (GOLD, Albany-Schenectady), J. Sultanik (SILVER, Philadelphia), V. Chukhanenko (BRONZE, Buffalo)
100 Butterfly (Girls 15-16):
Difabrizio (GOLD, Central New Jersey), B. Monroe (SILVER, Albany-Schenectady, R. Rouff (BRONZE, Cherry Hill, NJ)
100 Butterfly (Boys 15-16):
Arthur (GOLD, Stamford), M. Yoffe (SILVER, Harrisburg), D. Donaldson (BRONZE, Central New Jersey)
200 Butterfly (Girls 12 -14):
Sheffer (GOLD, Albany-Schenectady), A. Abrams (SILVER, Stamford), A. Jaffe (BRONZE, Pittsburgh)
200 Butterfly (Boys 12-14):
Feret (GOLD, Albany-Schenectady), E. Ginzburg (SILVER, Toronto), M. Liebermann (BRONZE, Central New Jersey)
200 Butterfly (Girls 15-16):
A Kligerman (GOLD, Albany-Schenectady)
200 Butterfly (Boys 15-16):
Yoffe (GOLD, Harrisburg)
200 Individual Medley (Girls 12-14):
Sheffer (GOLD, Albany-Schenectady), H. Woren (SILVER, Harrisburg), E. Sheffer (BRONZE, Albany-Schenectady)
200 Individual Medley (Boys 12-14):
Feret (GOLD, Albany-Schenectady), J. Sultanik (SILVER, Philadelphia), D. Suckerman (BRONZE, Boston)
200 Individual Medley (Girls 15-16):
Monroe (GOLD, Albany-Schenectady), A. Kligerman (SILVER, Albany-Schenectady), E. Stein (BRONZE, Harrisburg)
200 Individual Medley (Boys 15-16):
Abrams (GOLD, Stamford), M. Yoffe (SILVER, Harrisburg), S. Gavrilov (BRONZE, Kings Bay Y)
400 Individual Medley (Girls 12-14):
Sheffer (GOLD, Albany-Schenectady), I. Jacobson (SILVER, Harrisburg)
400 Individual Medley (Boys 12-14):
Feret (GOLD, Albany-Schenectady), J. Slack (SILVER, Central New Jersey)
400 Individual Medley (Girls 15-16):
Monroe (GOLD, Albany-Schenectady), A. Kligerman (SILVER, Albany-Schenectady)
400 Individual Medley (Boys 15-16):
Abrams (GOLD, Stamford), M. Yoffe (SILVER, Harrisburg)
Tennis (Boys U16)
Jordan Soifer (GOLD, Stamford), David Missry (SILVER, Pittsburgh), Sammy Nayhouse (BRONZE, Pittsburgh)
Tennis (Boys U14)
Aaron Liebskind (GOLD, Stamford), Stefan Schiff (SILVER, Ohio), Eli Boshak (BRONZE, Central Jersey)
Tennis (Girls)
Erica Wang (GOLD, Greater Washington), Sadye Boshak (SILVER, Central Jersey), Chloe Freedman (BRONZE, Boston)