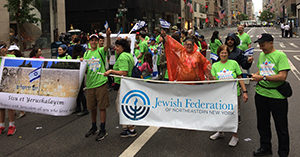 NEW YORK CITY (JTA) — Tens of thousands of people lined Manhattan's Fifth Avenue to show their support for Israel. The "Celebrate Israel" parade was held Sunday afternoon, June 4, under the banner of "Celebrate Israel All Together." The parade also recognized 50 years of the reunification of Jerusalem.
Among those in the parade was a contingent of 50 from this area that traveled together to NYC by bus in an effort coordinated by the Jewish Federation Of Northeastern New York.
Nine members of Israel's Parliament were scheduled to march in the parade, as were Israel's Ambassador to the United Nations Danny Danon and Jerusalem Mayor Nir Barkat.
New York Gov. Andrew Cuomo and New York City Mayor Bill De Blasio were in attendance. Some 30 floats and 11 marching bands were e part of the parade.
Former New York Giants running back Tiki Barber served alongside Barkat and kosher chef Jamie Geller as honorary grand marshals.
Cuomo was joined in the parade by Chemi Peres, son of the late former Israeli Prime Minister Shimon Peres. Prior to the parade, Cuomo declared the day, and every first Sunday of June, Shimon Peres Day in New York (See The Jewish World website to watch a video of the speakers at the inaugural Shimon Peres breakfast in New York City.).
The parade was protested by activists from IfNotNow, the Jewish anti-establishment group, who attempted to block the route carrying a sign reading "No Celebration of Occupation." Police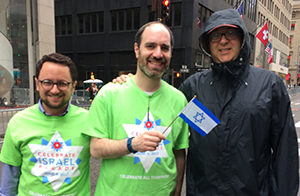 intervened, walking between the marchers and protesters.
Seven activists were arrested during the parade, according to Jewish Voice for Peace, which coordinated the more than 100 counter demonstrators. One group of activists blocked De Blasio and his contingent, protesting the New York Police Department's long-standing relationship with Israeli security, enhanced by police exchange programs which bring local law enforcement officials to Israel to study their methods, which JVP calles "an exchange of worst practices."
A group of queer Jews staged a sit-in to disrupt the parade's LGBTQ contingent, holding signs reading "No pride in apartheid" and "Queer Jews for a free Palestine."