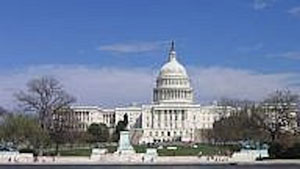 By AARON BANDLER
(Jewish Journal via JNS) – The suspect who rammed his car into police officers at the U.S. Capitol on April 2 described himself on his Facebook page as a "Follower of [Nation of Islam leader Louis] Farrakhan."
Identified as Noah Green, 25, he was shot dead by police after allegedly jumping out of the car with a knife and attempting to attack police officers with it.
The attack resulted in the death of a police officer, identified as William "Billy" Evans, a veteran and a father of two. Another officer was injured in the attack and is "fighting for his life," according to U.S. President Joe Biden.
Green's Facebook page, which has since been taken down, reportedly featured a March 17 post stating that he had been having a "tough" time of late, though seemed to be heading down the right path, but that "the path has been thwarted, as Allah has chosen me for other things. Throughout life, I have set goals, attained them, set higher ones, and then been required to sacrifice those things."
Green reportedly signed the post "Brother X."
The Stop Antisemitism.org watchdog tweeted: "We will say this again—what starts with Jews never ends with Jews. The family of the murdered officer is in our prayers and has our deepest sympathies."
The American Jewish Committee posted on Twitter that it "mourns the death of a U.S. Capitol Police officer today. We extend our deepest condolences to his family and wish the second officer harmed in this attack a full recovery. These assaults against our Capitol and democracy must end."
The Anti-Defamation League also tweeted: "We are monitoring the car-ramming and knife attack incident at the north barricade of the Capitol complex. We extend condolences to the family of the fallen Capitol police officer and wish a full recovery to the second officer."