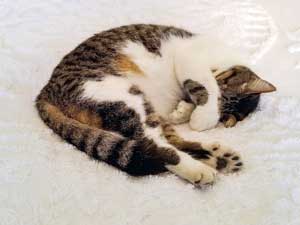 By MARILYN SHAPIRO
Ernest Hemingway loved cats. I knew it the minute I walked into his former house in Key West, Fla. Despite the beautiful day and the open windows, the smell of felines permeated every room. Our tour guide Doug introduced us to Gloria Swanson, Rudolf Valentino, and Betty Grable, three of the 40 plus six-toed cats that roamed the grounds. All were descendants of his first polydactyl cat, Snow White.
Trans Cat?
I also love cats. Our family alway had one or two when I was growing up. We had to give away two Siamese beauties when we realized that they were using the space under the claw-foot tub as a litter box. Most of the time, however, the cats stayed with us until they disappeared. My favorites were Romeo and Juliet, the former renamed Rebishka when "he" delivered a litter of kittens on my bed while I was sleeping in it.
When our children were young, my family was given a stray that we named Fluffy. She died of feline leukemia three years later. By that time, it was obvious that Larry, my husband, was allergic. This didn't stop me from adopting two more. "The children miss Fluffy," I told Larry.
Forget Ultimatums
Salty, the orange tiger, was more loving than his misnamed sister Cuddles, a calico. He especially loved Larry, who sneezed and sniffled every time Salty sat on his lap.
One evening, before Larry left for a synagogue board meeting, he gave me an ultimatum. "Find a new home for Salty or find a new husband." Soon after he left, I got a phone call from my friend Diane, who is even more allergic than Larry.
"The kids brought home a stray kitten," she said. "Could you please take it in until you can find it a home." I couldn't say no.
Larry came home that night to three cats. Fortunately, I didn't need to find a new husband. A co-worker immediately adopted Pumpkin, and a few days later another friend adopted Salty. We were back to a one-cat household.
Cuddles Finds Larry
To no one's surprise, Larry became Cuddles' favorite human. The two of them often played cat ball. Larry would roll up a piece of aluminum foil, skid it across the floor, and Cuddles would bat it around the house. When she was 14 years old, our beautiful cat disappeared one night and never returned. (A friend "consoled" me with the suggestion that Cuddles was fox food). We found cat balls for months. Ten years later, while in the process of installing a new dishwasher, we found 20 of them in the briefly emptied space.
By this time, we realized that all of us were allergic to cat dander, but I never have lost my love for cats. When I visit a house with cats, I can't wait to pet them and hear that wonderful purr. So at the Hemingway House, I petted each one that got within arm's reach.
I Was A Hemingway Fan
At one point, I also loved Ernest Hemingway, so much that I completed an independent study on him and his writing in my senior year at the University at Albany. The Sun Also Rises, Farewell to Arms, Old Man and the Sea—I admired his sparse style, his characters, and his complex search for the masculine ideal. I was, as I have shared with readers before, young, naive, and sometimes clueless.
It was not until many years later that my opinion of the author changed. Reading his novels and other material about Hemingway from a more mature eye, I saw more clearly the man behind the myth—a narcissistic, heavy drinking male chauvinist. As Bernice Kert stated in The Hemingway Women: Hemingway could not truly sustain any of his four marriages. "Married domesticity may have seemed to him the desirable culmination of romantic love, but sooner or later he became bored and restless, critical and bullying."
Disturbed By Bias
His relationship with his third wife, the American journalist Martha Gellhorn, clearly demonstrates these characteristics. Resentful of her long absences as she pursued international stories, Hemingway protested, "Are you a war correspondent, or wife in my bed?" The final straw for Gellhorn (and me!) was when she learned that Hemingway had convinced Charles Cobaugh, her editor at Collier magazine, to send him to the European front instead of his wife. In her excellent novel Love and Ruin, Paula MacLean describes Gellhorn's reaction to the betrayal. "You could have gone to any magazine in the world, absolutely any of them. I didn't know you had such a cruel streak in you." Gellhorn found another—albeit more dangerous—way to the front and divorced him soon after.
Hemingway also has been accused of being anti-Semitic. As Mary Dearborn writes in a 2017 article in The Forward, the author's letters were laced with "nasty remarks about Jews." She states that in his first novel The Sun Also Rises, his character Robert Cohn is described as an obnoxious individual, a "kike" and a "rich Jew." Although some critics have given his writing as expressing the "fashionable anti-Semitism of the 1920s," I now find his treatment of Jews in his novels to be disturbing.
Future Cat?
Should I stop reading Hemingway's novels? No. If I boycotted every classic that contains anti-Semitic references I would have to shelf huge chunks of English literature including Shakespeare, Nathanial Hawthorne, and Charles Dickens. Even Phillip Roth has been accused of perpetuating Jewish stereotypes in his literature. The list gets longer if I add on other classics that demonstrate other racial and ethnic slurs.
So I will continue to read Hemingway and other renowned authors with a little less enthusiasm and a little more critical eye. And maybe, in the future, I will have on my lap while reading a lovely, Balinese —or another of the seven "hypoallergenic" breeds known to produce fewer allergens than other cats. In a tip of the hat to my favorite Hemingway wife, I will name my new love Marty. Take that, Ernest!
Marilyn Shapiro, formerly of Clifton Park, is now a resident of Kissimmee, Fla. A second compilation of her articles printed in The Jewish World has been published. Tikkun Olam now joins There Goes My Heart. Marilyn Shapiro's blog is theregoesmyheart.me.