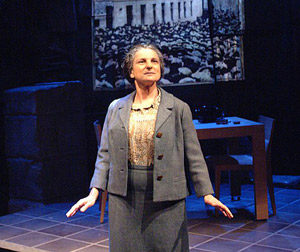 SCHENECTADY–Yom Ha'Atzmaut will be celebrated at the Schenectady Jewish Community Center with an Israeli dinner and a screening of the film "Golda's Balcony, The Film" to commemorate Israeli's Declaration of Independence in 1948. In addition to the film, Israel's 71st Independence Day will be noted at the Center with an Israeli dinner featuring live music and food such as shawarma, falafel, salads, and cake prior to the film.
"Golda's Balcony, The Film" relates the story of Golda Meir, the fourth prime minister of Israel detailing how an American school teacher became the leader of Israel. The time of the Yom Kippur War when Israel was under attack by Egypt and Syria is a main focus of the story.
Originally a play, a multi-camera shoot from the original run of the production was recently discovered and assembled into this motion picture. Tovah Feldshuh  is featured in  her award-winning performance as Golda Meir in William Gibson's "Golda's Balcony, The Film."
Cost is $15 for adults, $8 for kids and $30 per family. Reservations are requested by Wednesday, May 15.
The film made in the USA is 86 minutes and in English.