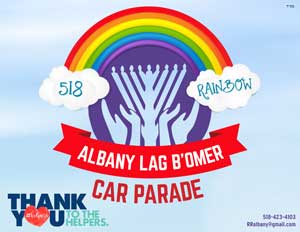 ALBANY–This year's "518 Car Parade" of the Capital District Chabad will be held on Tuesday, May 12, along New Scotland Ave. between Albany Medical Center and St. Peter Hospitals. The 2020 Lag B'Omer parade will thank the Medical COVID-19 responders, said Rabbi Israel Rubin, head of the Capital District Chabad. The exact time and route have yet to be announced.
Rabbi Rubin recalls "Mister Rogers" saying, "When I was a boy and saw scary things in the news, my mother would say, 'Look for the helpers!'" Rubin points out that our first responders, police, postmen, healthcare providers and pharmacists, factory and grocery workers, deliverers, civil service employees, and journalists all work to keep us safe, healthy and informed. Together, let's show our appreciation and let our helpers know that we value and appreciate their service and commitment," said the rabbi.
The 518 Decorated Car Parade Saluting Helpers will share the message that kindness, love and patience are also highly contagious. "Mitzvah Goreret Mitzvah" (Pirkei Avot 4)— One good deed brings another. Now, more than ever, we offer each other comfort and solidarity. "It's not enough to stop the coronavirus spread," Rubin stated. "We must unite around the universal values of hope and loving-kindness."
Rubin  noted that Lag B'Omer, 33rd day of the Omer—this year, May 12, brings to mind the Talmudic sage Rabbi Akiva who stated "Love your neighbor as yourself —that is the great principle of the Torah," and Rabbi Shimon bar Yochai's mystical teachings. When R. Shimon was released from his quarantine he sought to do tikkun olam to fix and correct.
Information may be obtained by calling 518-423-4103, or online at  www.capitalchabad.com/parade.