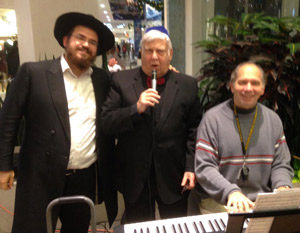 Chai Jewish Center of Colonie held a  recent Chanukah celebration at the Colonie Center Mall in the Center court. The two-hour program featured the Mel-Malc duo, with Marty Wigler as singer and Malcolm Kogat on the keyboard. Holiday refreshments included hot latkes and doughnuts. Live music, dancing, and the lighting of the menorah were also featured.
Wigler performs in a variety of choirs throughout the region and organizes and offers free or low cost entertainment for local non-profit organizations.
Pictured from left, Rabbi Mordechai Rubin, co-director of the Chai Jewish Center, Marty Wigler, and Malcolm Kogat.