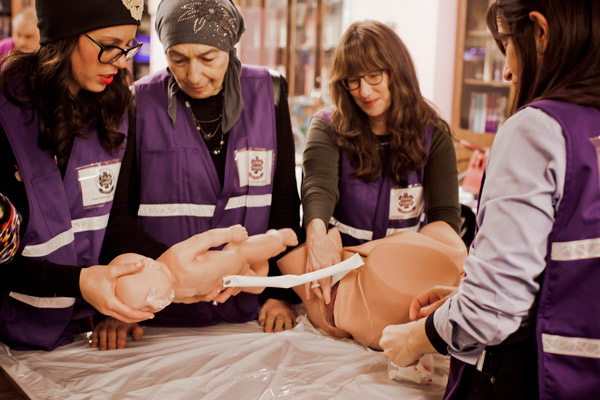 When Rachel "Ruchie" Freier introduces us to Borough Park, Brooklyn, one of the world's largest enclaves of Chasidic Jews, she acknowledges the community's prevailing view of a woman's role: "The focus of a woman is being a mother. Any profession, or extra schooling, is discouraged." In Paula Eiselt's debut feature documentary, "93Queen," America's first all-female EMT corps is born against this unlikely backdrop.
"93Queen," directed by Paula Eiselt and produced by Eiselt and Heidi Reinberg, makes its national broadcast premiere on the PBS documentary series POV and pov.org on Monday, Sept. 17 at 10 p.m. POV is American television's longest-running documentary series now in its 31st season. The documentary is a co-production of American Documentary | POV and ITVS.
As a practicing lawyer, Freier is already a member of the small subset of women in the community with professional degrees. She sees a need to rethink entrenched gender roles  when it comes to emergency services.
Traditionally, all EMTs serving Brooklyn's Chasidic neighborhoods come from the exclusively male volunteer organization Hatzolah. Although the rules against contact between unmarried men and women are waived during medical emergencies, Freier explains, "Most Chasidic women want a woman to help them." Hence the name of the new EMT organization she begins building, Ezras Nashim (women who help).
The backlash is immediate. An anonymous Hatzolah interviewee says, "The community itself will rebel against any organization trying to do things against [us]. In reality, there are gender specific roles. We've never had a woman president. Most CEOs are still men. Sometimes it's just the way it is, whether you like it or not." A flood of more openly hostile online comments and memes evinces a desire to stop the new organization.
Despite this, the first group of volunteers assembles. A series of vignettes shows the women training, obtaining the necessary medical supplies and setting up their emergency dispatch system. When they connect to the official New York City Fire Department radio, the chief assigns them the call sign 93Q, read aloud as "93-Queen."
The film spends time with several other members of Ezras Nashim: co-founder Yocheved, a recent convert with more than 20 years of EMT experience in the secular world; Yitty, a young mother who had childhood dreams of being a doctor; and Hadassah, a recently divorced woman who joins, she says, because "no woman should ever be too embarrassed to call for help."
These women share Freier's belief in the organization's core mission, though tension rises over just how far Ezras Nashim should go in challenging the patriarchy. A rift emerges when unmarried recruits are barred from working in the field due to Freier's decision to allow only married women to go out on calls.
"No one embodies the confounding dichotomy between tradition and modernity quite like Ruchie Freier. While toeing the blurred line between redefining traditional roles and merely updating them, Ruchie takes matters into her own hands to move her community forward," said director Paula Eiselt. "