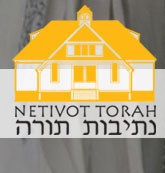 CHATHAM–The Chatham synagogue, Netivot Torah, 1536 Rte, 28 in Valatie has scheduled a tot Shabbat program for children under 10. It is open to the community. The program, Saturday, July 1, from 11- 12 p.m., will feature storytelling, dance and song based on the week's Torah reading.
An adult service ongoing upstairs is scheduled to end at noon.
Information may be obtained at www.thechathamsynagogue.org.