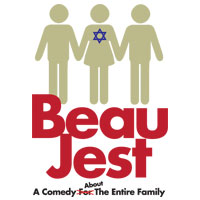 SCHENECTADY–The Classic Theater Guild will present "Beau Jest" by James Sherman at Beth Israel Synagogue, 2195 Eastern Parkway, Schenectady. Performances will be Oct 25, 27, and 31, and Nov. 1, and 3, at 7:30 p.m. Matinee performances are planned for Oct. 28 and Nov. 4 at 2 p.m.
The comedic play's story is that of Sarah Goldberg, a young Jewish teacher, with a problem: her parents want her married to a nice Jewish boy. So she invents a boyfriend whom she believes will be the man of her mother's dreams. When they insist upon meeting the man, Sarah hires Bob, an actor, to pretend to be her "beau."
Director is John Birchler. The character, Abe Goldberg, will be  played by Jesse Braverman. Braverman, a special education teacher in the Greenville Central School District, lives in Glenmont.
Tickets may be be purchased at the door or at brownpapertickets.com, www.ClassicTheaterGuild.com
$20, adults.$18, seniors, veterans and students.