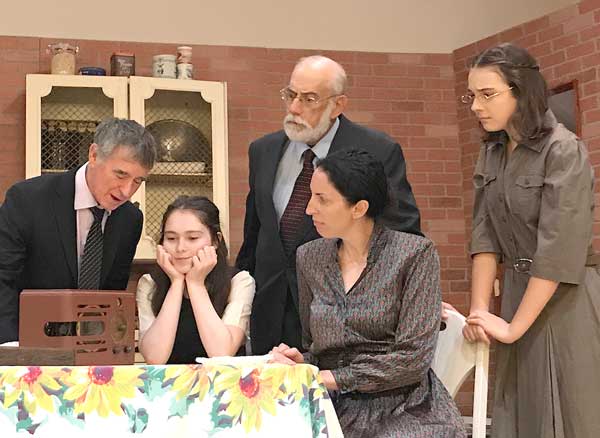 SCHENECTADY– Classic Theater Guild (CTG), is launching its Fall season "The Diary of Anne Frank" at Beth Israel Synagogue, at 2195 Eastern Parkway, Schenectady, beginning on Thursday, Oct. 31, at 7 p.m.
According to the CTG, "The Diary of Anne Frank" is one of the most famous and haunting stories to emerge in the 20th century. "Frank's hopeful spirit and her chronicled story of resilience continue to resonate deeply, making her story as vital today as when her diary was first published," said Director and CTG President Steve Suriano.
For nearly two years, Anne, her father, mother and sister, along with the Van Daan family, and a neighborhood dentist, hid in a cramped, secret annex above her father Otto Frank's former office in Amsterdam.
CTG veteran cast will bring to life the characters of Wendy Kesselman's adaptation of the original Goodrich and Hackett script, which draws from previously unpublished parts of the diary.
Represented in the play are the Frank family, played by Jesse Braverman, Marie Oppedisano, Krista Rivers and Caroline Jameson; the Van Daan family, portrayed by Gordon Brown, Rachel Pearlman, and Kendon Brown; the dentist played by Alan Angelo, and the Dutch helpers brought to life by Ken Goldfarb and Zoë Brown.
Classic Theater Guild was established in 2004, and draws its cast, crew, and board members from Albany, Schenectady, Troy and surrounding towns. Beth Israel Synagogue is the primary location of CTG's productions, with the other common locations being the Addy Theater and the Fenimore Gallery, both part of the Proctors complex.
Jewish members of the cast include: Rachel Pearlman, Jesse Braverman and Ken Goldfarb.
Six performances of "The Diary of Anne Frank" will be held: Thursday Oct. 31, at 7 p.m.  Saturday Nov. 2 at 7 p.m. a matinee on Sunday Nov. 3, at 3 p.m., Thursday Nov. 7 at 7 p.m. Saturday, Nov. 9, at 7 p.m., with the final performance on Sunday, Nov. 10, at 3 p.m. Tickets are $20, or $18 for seniors, students, or military, and may be purchased online through Brown Paper  Tickets,  www.brownpapertickets.com/event/4343282.