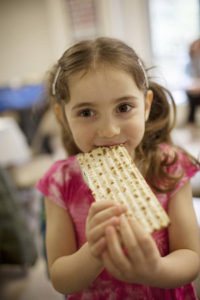 CLIFTON PARK–The Clifton Park Chabad has announced a variety of April programing.
The monthly Tot Shabbat has been set for Friday, April 5, at 6:15 p.m.
Passover will be featured at the "4D Kids Passover Experience" on Sunday, April 14, beginning at 10:30 a.m. at the Clifton Park Senior Center, 6 Clifton Common Blvd., Clifton Park. Simulated time travel, interactive 3D video, games, and team-challenges will be used to get the children in the mood for the Passover holiday.
Women's Torah & Tea—Passover Edition is planned as a two part series, Wednesdays, April 17 and 24. It is a 10 a.m. Passover Torah study.
A community Passover seder with the Saratoga Chabad has been slated for Friday, April 19, at 7 p.m. at Saratoga Chabad, 130 Circular St., Saratoga Springs. The Passover seder will  include a four course dinner.
Information and reservations about the Clifton Park programs may be obtained by contacting Leah Rubin at 518-495-0779 or www.cliftonparkchabad.com.
Community seder information may be obtained from either Rabbi Abba Rubin at 518-526-0773 or Rabbi Yossi Rubin at 518-495-0772.