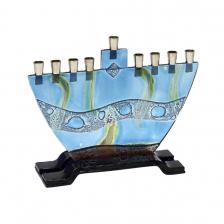 CLIFTON PARK–The Jewish Women's Circle (JWC) of the Clifton Park Chabad will host a night out for women only at Arts & Glass at the Clifton Park Center at 6 p.m. on Monday, Dec.18. Those in attendance will have an opportunity to create a glass-fused dish and also celebrate Chanukah .
Hostesses for the event are Varda LeMonds, Erica Schumacher and Rochelle Treiber. Reservations, which are required, may be made with Leah Rubin at 518- 495-0779, jwc@cliftonparkchabad.com.
The fee for the event is $22.
Clifton Park women got together on Sunday Nov. 5. for a Challah and Babka bake at the Clifton Park Senior Community center. From left to right, Sandy Rybaltowski, Ronda Ross, Elaine Lowenberg and Rochelle Treiber.