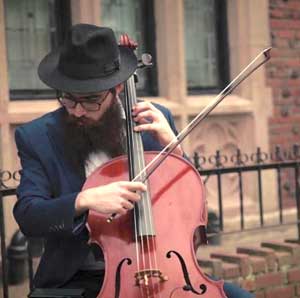 ALBANY– As gathering together physically is not an option this year, the holiday of Lag B'Omer will be noted by the Colonie Chabad Jewish Center with a zoomed Lag B'Omer event. Guest cellist Sholom Eagle of Toronto, Canada will perform on the holiday, Tuesday, May 12, at 6 p.m.
Eagle started playing cello at the age of five. Beginning with classical minuets and suites, he slowly incorporated klezmer and Chasidic music into his repertoire. He has performed across the world from Malibu to Vietnam. Eagle, an ordained rabbi, says that he uses his musical talents to spread Judaism and inspire those around him.
"On Lag B'Omer we celebrate Jewish pride and unity, values so vital especially during these challenging times —we couldn't have missed it this year! We have all learned to be very creative during this challenging COVID-19 in many different ways. Therefore we came up with something creative to celebrate and for all to enjoy," said Rabbi Mordechai Rubin, co-director of the Colonie Chabad.
The Zoom Meeting ID: 838 0073 4194.  Dial by phone: 646-558-8656. Passwords and ID, and information may be obtained from Rubin at ChaiCenterColonie@gmail.com or by calling 518-368-7886.