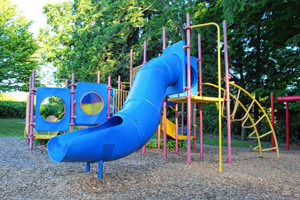 ALBANY–Congregation Ohav Shalom is kicking off the fund-raising for a new playground structure with a concert for kids on Sunday, Feb. 11, at 3 p.m. The concert will be held at The Jewish Federation, 184 Washington Ave. Ext. Albany. A trio of local musicians, Matt Yaeger, the director of "Matt's Music Together," an international music program, dedicated to introducing and encouraging children and families to participate in music will be joined by Julie Adler, formerly the music director at the Hebrew Academy, the creative force behind "Jammin' With Julie," an educational, interactive music program for children and Bob Willower, a resident of the Ohav Sholom Apartments who shares his singing and guitar playing with the children of the Ohav Early Childhood Center on a bi-monthly basis.
As inclusion and accessibility continues to be a theme embraced by Ohav Shalom, the playground equipment, preparation and installation is expected to cost $45,000. The playground will meet the American Disability Act guidelines and be accessible to all children and caregivers.
A $30 family admission will be charged.
Sheryl Welton at 518-489-4894 or nsdirector@ohavshalom.com can provide details.