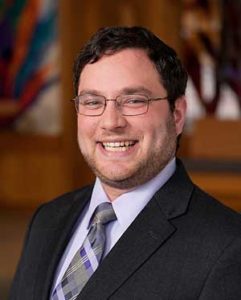 Niskayuna, NY – Congregation Agudat Achim in Niskayuna is excited to announce the appointment of Rabbi Rafi Spitzer as its new spiritual leader commencing on August 1.  Rabbi Spitzer, who grew up in Sharon, MA, was ordained as a rabbi and teacher by the Jewish Theological Seminary of America.  In addition to ordination, he earned a Masters of Arts degree in Judaic Studies and received a Certificate in Pastoral Care and Counseling.  Rabbi Spitzer holds a Bachelor's degree in Anthropology from Boston University.
Rabbi Spitzer comes to Agudat Achim with a wealth of experience which includes serving as a hospice chaplain with the Manhattan Jewish Health System at the Isabella Geriatric Center in Washington Heights and at the Block and Zicklin Hospice residences in the Bronx.  Recently, he was a student rabbi with the Fitzgerald Hebrew Congregation in Fitzgerald, GA and served as a rabbinic intern at the United Synagogue of Hoboken, NJ.  Rabbi Spitzer learned Talmud and Jewish Law intensively at the Jewish Theological Seminary's Nishma Summer Beit Midrash and spent many summers at Camp Ramah in New England as a counselor and ultimately as a Rosh Edah.
During his Seminary year in Israel, Rabbi Spitzer was a fellow with Encounter, and an intern at Hod VeHadar, a Masorti synagogue in Kfar Saba. Before pursuing the rabbinate, he worked as a youth educator and community projects specialist at Temple Beth Elohim in Wellesley, MA, and trained as a mikvah guide at Mayyim Hayyim in Newton, MA.
Rabbi Spitzer, his wife Rachael Besser and daughter Ellie will reside in Niskayuna. We welcome the Spitzer family into our community. A formal installation ceremony will be announced later in the fall.