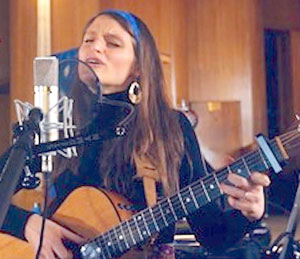 SCHENECTADY–Deborah Sacks Mintz, musician and ba'al tefilah,  is set for a weekend of programs  online sponsored  by Congregation Agudat Achim.  She has performed communal Jewish music, old and new, at synagogues and Jewish institutions around the country.  The program will begin  Friday,  Jan. 29, with a Kabbalat Shabbat at 3:40 p.m.  Havdalah on Saturday, Jan. 30, is slated for 6:30 p.m.  and it will be followed by a concert at 7 p.m.  A class featuring  Shabbat table songs and nuggunim,"From Shalom Aleichem to Birkat Hamazon, and Everything In Between!"  will be held on Sunday, Jan. 31, .at 7:30 p.m.
As the community singing consultant for Hadar's Rising Song Institute, Sacks Mintz, works with organizations across North America seeking to cultivate the musical and spiritual creativity of the Jewish people. In addition to composing new Jewish music, Sacks Mintz, performs and records with a range of  musicians and ensembles. 
Her debut album of original spiritual music, The Narrow and the Expanse, was released this past spring.
Registration  on  the congregation's Facebook or webpage is required for the concert only.  Price is $5 for congregants and $8 per person for non members.