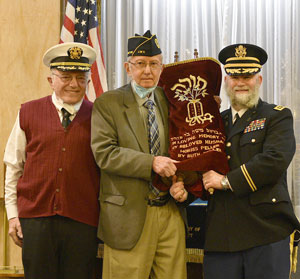 SCHENECTADY–Congregation Beth Israel, a modern Orthodox congregation based in Schenectady, on March 21 answered a call from a rabbi stationed at the U.S. Army base in Fort Drum, N.Y., for a Torah to help out Jewish servicemen and women. The Torah was accepted by Rabbi Moshe Lans, the Jewish chaplain at Fort Drum, on behalf of the Surfside, Fla.-based Aleph Institute, a non-profit that has a federal contract with the U.S. Army.
The donated Torah is pasoul (imperfect) and will need to be repaired by a sofer, a scribe, trained in writing a proper Torah that is deemed kosher.
The leadership of the Aleph Institute has agreed to have the Torah repaired and transferred to Rabbi Lans after he begins his next tour of duty at Fort Bliss Army Base in El Paso, Texas.
"This Torah we are donating is upwards of 100 years old," said Debbie Gatoff, president of Congregation Beth Israel. "Rather than sitting idle in our synagogue we are happy that it will now be in active service for our military men and women. This will be the sixth Torah Congregation Beth Israel has given to other synagogues or to schools."
Congregation Beth Israel was created by a merger of two Orthodox congregations, one of which was known as the Hungarian Shul. This ancestor congregation was formed around the turn of the 19th century by machinists and toolmakers whom General Electric recruited to move to Schenectady to work in their plant. The Hungarian Shul merged with a "Russian" congregation which was most likely also a merger of two  congregations.  Thus Beth Israel has more Torahs than it needs. Although we can't trace the origin of this specific scroll, we believe it could be over 100 years old, according to Margo Strosberg, a member of the congregation.
The congregation retains about 8 scrolls in its two arks. 
"On behalf of the officers and congregants of Beth Israel synagogue in Schenectady, I am happy and proud to present this Torah to Rabbi Chaplain Moshe Lans and to the Jewish members of our military forces," said Dr. Al Finkel, the gabbai (sextant) of the congregation."
"We need this so much for our soldiers," said Leah Bracha (Laurie) Lans, rebettzin of the Fort Drum Jewish Congregation and a retired Lt. cmmander intelligence officer with the U.S. Navy. "You're such a kiddush Hashem!" (Kiddush Hashem means a religious or moral act that causes others to reverence God especially by any action where a Jew brings honor, respect and glory to God as a sanctification of His name.)
Chaplain (MAJ) Rabbi Moshe Lans, U.S. Army said, "On behalf of my Ecclesiastical endorser, The Aleph Institute, I express my hakarat hatov (gratitude) to Congregation Beth Israel for giving a sefer Torah to Jewish military service members. I am incredibly humbled to be The Aleph Institute's first custodian of the sefer Torah. Having a sefer Torah enriches davening by fulfilling mitzvot that are otherwise impossible without one. For orchestrating the sefer Torah's donation I want to offer a hearty and sincere Yasher Koach (increased strength) to Marc Gronich who helped facilitate the transfer."