ALBANY – Congregation Ohav Shalom will honor Rabbi Beverly (Bev) and Richard Magidson, Michelle and Danny Sanders, and Margery and Alan Zucker at its annual Shomrei Habayit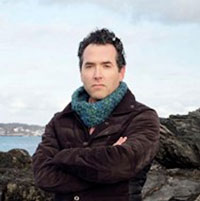 Volunteer Recognition event on Thursday evening, April 29, from 7:30 to 9 p.m. via Zoom. Tickets are available to "virtually" attend.
Highlighting the evening will be music by featured artist Russell Kaback, a musician, writer and teacher who is  composing a musical based on the life of his grandfather, Yehoshua "Szyja" Magier, a Polish Jew who spent four years in Nazi labor and concentration camps. Russell received the Joel and Linda Abromson Award in 2016 in support of sharing his songs and stories in classrooms in Maine. In 2018 he performed onstage in his grandfather's hometown of Bendzin during the 75-year commemoration of the liquidation of the region's ghettoes. Russell was raised in Montreal and lives in the Portland.
Organizers explained that Shomrei HaBayit means "Guardians of the House." "Each of us brings his or her "voice" —our diverse insights, experiences and Jewish commitments — to the precious task of weaving together one sacred community. Our Shomrei HaBayit commemoration, an annual awards event, honors our most deserving volunteers… those who go above and beyond to serve our Ohav community. Their ongoing commitment and dedication to our congregation is recognized and appreciated by our entire membership," said Judy Avner, president of the Ohav Shalom Board of Trustees.
Avner added, "All the honorees, past and present, are incredible people. Each of them has served on the board of trustees, on numerous committees or in various other roles connected with our synagogue, and though they have done so much, they continue their work on behalf of our congregation. Together they make a powerhouse of positive energy from which Ohav Shalom has benefitted for many years."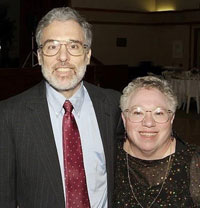 Rabbi Bev and Richard Magidson. The rabbi is a native of Detroit, Mich. She is a graduate of Brandeis University, Hebrew Union College-Jewish Institute of Religion in New York and is a member of the Conservative Rabbinical Assembly. She came to the Capital District in 1983 to become rabbi at Congregation Beth Shalom in Clifton Park. Her career in chaplaincy has included serving the ill and frail at the Jewish Hospital of St. Louis, Albany Medical Center Hospital, and the Capital District Psychiatric Center. She is the director of chaplaincy services for Jewish Family Services of NENY (formerly for the Jewish Federation of Northeastern New York), and religious coordinator at the Daughters of Sarah Senior Community. She has served on several boards, including the Sid and Beatrice Albert Memorial Lectureship, the Neshama: Association of Jewish Chaplains, Hebrew Academy of the Capital District, and as president of the Capital District Board of Rabbis. At Ohav Shalom the couple is  involved in leading its Wednesday morning minyan. Bev is also a regular Torah-reader and davvener and is a volunteer in Ohav's Yad Yonatan, program that provides assistance and support to members who are grieving, facing a serious illness or in a crisis. She  also participates in the Hevra Kaddisha. Richard attended the Teachers Institute of the Jewish Theological Seminary (JTS), studying secondary education. After some time, he returned to college at Baruch (CUNY) and received a degree in accounting with a secondary focus on computer programming. He is a CPA and has had 37-year-long career as a computer software specialist. He has performed with the Ne'imah Chorus since 1994, and has  served on its board. The couple, parents of two adult children, Sholom and Sarah, live in Albany.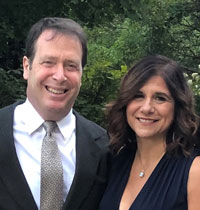 Michelle and Danny Sanders. Each were born and raised in Albany and have dedicated themselves to family and to serving the community. They have both served Ohav Shalom in various capacities. Following college, Danny worked for an architecture firm in Northern Virginia before returning to Albany to join the family business, Harris A. Sanders, Architects. The firm was the architect for both the original Ohav Shalom in 1962 and the renovation project in 1997. Danny also served as co-chairman with David Levine on the Torah Writing Campaign. He is Ohav's "go to" person on all architectural matters, has served as a member of the board of trustees and has been involved in helping to maintain and elevate the building and grounds of the synagogue. Michelle has been involved on Ohav's Hebrew School committee and the social justice committee where she has worked to help those in the surrounding area who contracted AIDS. She is the founder and director of Ohav Shalom's Noodle Pudding Players, a group that brings theater to the Ohav. She served on the U.S. Committee of Refugees and Immigrants (USCRI) from 2016 until the pandemic. Michelle is also involved locally, serving as a district leader in the Bethlehem Democratic Committee; co-president of the Hamagrael School PTO; and, as a Girl Scout Leader for seven years. Dan and Michelle have three children, Ben, Jacob and Rozara, and live in Delmar.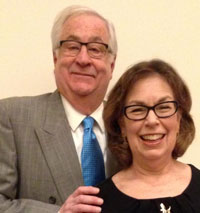 Margery and Alan Zucker. The couple has attended Ohav Shalom for more than 50 years since they were students at the University at Albany and they  have been members for more than 40 years. Margery, who is now retired from her career as a school library media specialist, and having worked years in library and educational administration, the financial industry, higher education, and educational testing, has served as a member of the board of trustees for many terms. Her devotion to the shul is evidenced through her work on committees including the Shomrei Ha'Bayit committee; co-chairwoman, coffee connections committee; Programming Co-Chairwoman of the Torah Writing Campaign; Kiddushe Mamas and Papas; Holy Rollers Torah Cleaning Group, and Yad Yonatan. Following the departure of Rabbi Baruch Frydman-Kohl and prior to the arrival of Rabbi Dan Ornstein, Margery served with now Rabbi Rena Kieval to officiate  at Shabbat services. She is a regular Torah, haftorah, and megillah reader, and, in addition, she has ushered on both the High Holy Days and Shabbat and has volunteered in the Ohav office.
Alan's career began with teaching in the Albany City Schools where he established the Mock Trials/Moot Court Program in Albany County with the NYS Bar Association and the late Judge Joseph Harris. He moved from there to Apple Computer where he was instrumental in introducing new learning technologies to schools across New York State. He is noted for his work with energy corporations such as Siemens AG and Johnson Controls in their "Smart Buildings/Smart Cities" projects to help schools gain energy efficiencies. He continues to work as a consultant specializing in energy and education issues. At Ohav Shalom, he is perhaps best recognized for his acting in the Noodle Pudding Players, but he is a constant volunteer. Through Ohav Shalom he volunteered in Sar-El (at two Israel Defense Force bases: Tel HaShomer Hospital and at Camp Re'im Southern Command Center near Gaza). Alan joined former Ohav Rabbi Baruch Frydman-Kohl and others from Ohav to visit refuseniks in the Soviet Union prior to glasnost and perestroika. Subsequently, Margery and Alan became involved in the resettlement efforts for newly arrived Russian Jewish families in Albany. The Zuckers have celebrated many of life's milestones at Ohav Shalom, including the b'nai mitzvot of their twin sons Jeremy and Joshua, and Jeremy's wedding to Dr. Wendy Proskin.
Volunteers on the working committee include Judy Avner, Jane Ginsburg, Laura Jacobs, Jean Kaback, Sheila Lobel, Sharon Lozman, Shari Piper, Nancy Pandolfo, Deborah Rausch, and Susan Ungerman.
Tickets are available to "virtually" attend the Shomrei HaBayit program. General admission will be  $72 per individual; honorary committee $136 per individual or $250 per couple. Tickets may be purchased at https://www.ohavshalom.org/support-us/shomrei-habayit/. Reservations may also be made with Cecelia Soloviev, administrative assistant at Ohav Shalom, via assistant@ohavshalom.org or 518-489-4706.