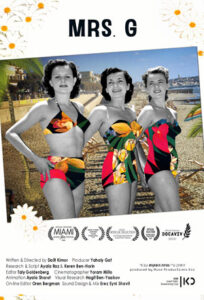 SARATOGA SPRINGS–Congregation Shaara Tfille and The Jewish Community Center of Saratoga Springs will live stream an Israeli documentary "Mrs. G." on Wednesday, Aug. 19, at 7 p.m.   It is a about the Israeli creator of the swimsuit company Gottex, Lea Gottlieb
Independent Israeli filmmaker Dalit Kimor and producer Yahaly Gat of Muse Productions, relate the story of Holocaust survivor, Gottlieb, Holocaust survivor,  founder  and head designer  of Gottex swimwear.
Gottlieb started the company in her tiny Tel Aviv apartment and then established a small factory in Israel. The documentary follows Gottlieb's creativity, and what some have termed a larger-than-life character. She spent her fortune extravagantly and lived her life like there was no tomorrow—often at the expense of those closest to her. Ultimately, her unyielding professional vision and unbridled passion, led to complex relationships with her two daughters, who both worked for the family business.
The Israeli premiere was in May 2019 at the Docaviv Documentary Film Festival with showings at the Moscow Israeli Film Festival, Fashion Film Festival Istanbul, Jewish Int. Film Festival in Australia, Chicago Festival of Israeli Cinema, Boston Jewish Film Festival, New York Jewish Film Festival and Rome Jewish Film Festival.
Open to the entire community, those who would like to view the movie are asked to e–mail likebertrand518@gmail.com to obtain the live streaming link.