DC Report
By Douglas Bloomfield
 Speaker Paul Ryan reminds me of that old definition of an honest politician: once bought, stays bought.
His response to the Valentines Day massacre of 17 students and educators at Marjory Stoneman Douglas high school in Parkland, Fla., was right out of the National Rifle Association playbook.
As the number one recipient of NRA money in the last election at $171,977, the Wisconsin Republican was quick to show his loyalty. Again. He has consistently used his power to dictate the congressional agenda to block any gun control legislation from seeing the light of day in the House of Representatives.
Timing Is Not Right?
The NRA-bought speaker was quick to offer his "thoughts and prayers" for the victims but cautioned against any measures to deal with gun violence. This is no time to "jump to some conclusions" but to "step back and count our blessings," he cautioned.
He wouldn't say when the right time is, but you know what he is thinking: never.
Blessings?
Those aren't blessings to be counted, Mr. Speaker. They're dead bodies of children, teachers, and too many other Americans gunned down.  The weapon of choice is most of those mass murders has been a version of the AR-15 assault rifle.  The body count is growing. There have been 23 mass shootings just since you became Speaker, killing some 220 people in those incidents alone.  Some of the deadliest episodes in American history happened on your watch, including Stoneman Douglas school, where 17 died. There was also the Texas First Baptist Church in Sutherland Springs, Texas, 26; Las Vegas Strip, 58; Orlando Pulse nightclub 49, and San Bernardino, 14.
Your prayers aren't working, unless you're praying to protect your benefactors in the gun lobby. It's time to get off your knees and start showing you care more about protecting the lives and rights of American children than the interests of the gun lobby.
In the 2016 election cycle the gun lobby gave $5.9 million to Republicans and $106,000 to only nine Democrats, according to Politico and the Center for Responsive Politics. Since 1990, 27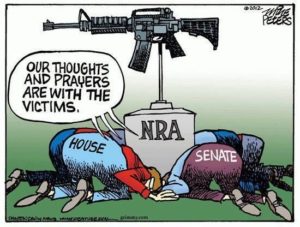 representatives received more than $100,000 from gun interests, all were Republicans. Ryan led on that list, too, with $336,597 from gun rights groups.
President Changes Mind
President Donald Trump sounded sympathetic when he spoke to survivors and families of the Stoneman Douglas massacre, but quickly reneged on even a modest promise to raise from 18 to 21 the age for purchases of rifles like the one used at their school. What happened? He met with NRA leaders.
They didn't have to remind Trump that they spent $21 million to help elect him, according to NBC News.  That was part of a record-breaking $36.6 million they spent on the 2016 election.  An NRA official told Politico that the group wasn't sure how reliable Trump would be but Hillary Clinton "must be defeated at all costs."
You, Mr. Speaker, your fellow Republicans and President Trump may be in lockstep with the NRA but you are out of step with American voters.
Voters Want Stricter Gun laws
Three new polls out since the Parkland shooting showed between 65 and 70 percent of adults want stricter gun control laws.
Yet Congress does nothing — unless you count making it easier to carry concealed weapons across state lines. Maybe that helps explain why a Quinnipiac University poll last summer showed voters gave Congress a dismal 10 percent approval rating.
Thousands of students across the country — including, I am proud to report, my granddaughter —walked out of school on the one-month anniversary to protest gun violence. There were also walkouts at Jewish day schools nationwide.
Jewish organizations have consistently advocated stricter gun safety laws.
As if Congress' deaf ear weren't bad enough, Fox News Tucker Carlson questioned the right of the students to protest since they're not of voting age.  Someone should tell him that regardless of age, they're still citizens and most will be eligible to vote by the time they graduate.
Students had some success in pressing the Florida legislature to take a first step toward gun safety legislation and the governor (who is thinking of running for the Senate in November) risked his A+ NRA rating by signing it.  Maybe he knows something Carlson doesn't: there's an election this fall and many of those kids and all of their parents will be voting.
Before you declare Carlson the numbskull of the month, consider Alaska Congressman Don Young. The 84-year-old dean of the House of Representatives, and a NRA board member, said if the Jews of Europe during the Nazi era had been armed six million wouldn't have perished in the Holocaust.
"How many Jews were put in the ovens because they were unarmed?" he asked.  A similar display of ignorance was offered by Housing Secretary Ben Carson when he was running for president in 2016.
Rep. Nita Lowey (D-New York) called it "one of the dumbest things I have ever heard" ADL's Jason Greenblatt called it "a distortion of history itself."  
Armed Teachers
President Trump wants teachers who have "natural talent, like hitting a baseball" to be given "rigorous firearms training' and sent armed into the schools.  Presumably they will be there to protect the students the next time there's a school shooting and an unarmed Trump won't be around to rush in and single-handedly subdue the bad guy.
If you wanted proof that the NRA-Trump plan to arm teachers is not only dangerous, but dumb, look at two recent incidents.  Teacher, city councilman and reserve police officer Dennis Alexander was showing his gun to students at Seaside (California) high school when it accidentally discharged. A resource officer at George Washington Middle School in Arlington, Virginia, accidentally fired his weapon.  Fortunately no one was injured, but the lesson is clear.
Teachers should be teachers, not prison guards or cops. The next  time there's a school shooting and white police rush into the building and see a black man with a gun, will they start shooting shoot or ask for a teaching certificate?
When that happens, Paul Ryan will offer his "thoughts and prayers," while counting his NRA campaign cash, and fellow Republicans, President Trump and the NRA will once again say it's too soon to discuss remedies for the gun violence. Be patient. Just wait until everyone moves on to something else.