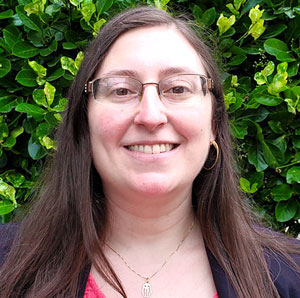 ALBANY–B'nai Sholom Reform Congregation in Albany has announced that Danielle Weisbrot of Long Island has been chosen to lead the community as its new rabbi. Weisbrot's appointment was approved by the congregation at a meeting, held March 24, and will take effect July 1.
Weisbrot will succeed Rabbi David Katz, who has guided the congregation for the past year as interim rabbi following the June 2020 retirement of Rabbi Donald Cashman. Cashman had served as B'nai Sholom's spiritual leader for 35 years.
"Words cannot do justice to the warmth and positive energy that we know Danielle will bring to her rabbinate. She loves to help guide a congregation in worship, she loves to teach, she loves to sing and she loves to bake. This is the beginning of a wonderful partnership, and we are so looking forward to Danielle joining our community and our future," said Julie Novkov, president of B'nai Sholom.
"B'nai Sholom is a welcoming and dedicated congregation with a passion for tikkun olam— repairing the world.  I am honored and excited to be its new rabbi and to become part of the Albany community," said Weisbrot.
Weisbrot is a senior rabbinic student at Hebrew Union College-Jewish Institute of Religion (HUC-JIR) in New York and will be ordained as a rabbi in May. She hails from New Hyde Park, Nassau County, where she has been an active participant with her congregation and has often led services when its rabbi or cantor was away. She worked for 10 years primarily in the non-profit educational sector before beginning rabbinic training. As a student rabbi, Weisbrot held the pulpit for two years at North Fork Reform Synagogue in Southold, Suffolk County, where she led services, taught and was instrumental in transitioning the congregation to "virtual" services during the pandemic.
 Weisbrot is particularly focused on social justice issues. Throughout her time at HUC-JIR, she volunteered in the student-run soup kitchen on the campus, rising to the position of head chef.
Weisbrot earned a master's degree in Hebrew literature from HUC-JIR, where she received multiple awards, and a bachelor's degree from Dickinson College in Carlisle, Penn. graduating summa cum laude with a major in English and a minor in Judaic studies.