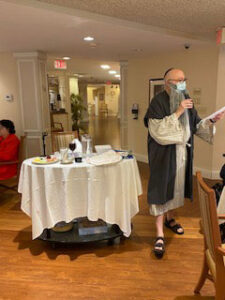 By Sharon Holbrook-Ryan
Director of Philanthropy and Marketing Daughters of Sarah Community for Seniors
As we all know, preparations for Passover begin days before the festival itself.  Cleaning of one's home to ensure no traces or scrapes of leavened bread are left.  These careful measures are no different in our home, here at Daughters of Sarah Community for Seniors.  Each year it's a concerted effort among several departments to ensure all is ready in both our Nursing & Rehabilitation Center and our living assisted facility, The Massry Residence. In 2020, we experienced new challenges, due to the Pandemic, and needed to adjust the way we held not only Passover but all holidays. Here's a glimpse into what that has looked like for us and most likely will for some time to come.
Passover Seder, at the Nursing & Rehabilitation Center, is a joyous time most often spent with family and friends at tables gathered round in the Village Square and, in our Massry Residence loved ones are together in the dining area.
This year residents had a special treat as Moses joined them in the dining room of The Massry Residence for the first night of Seder! Our CEO, Mark Koblenz, played the part while leading Seder service, which residents were able to enjoy (although socially distanced) together. Both residents and staff also had the opportunity to partake in the enjoyment of Passover puzzles and shared Mitzvah stories with one another.  Residents in the Nursing & Rehabilitation Center were given individual Seder plates but were able to congregate in a small group in order to celebrate together.
Starting in March 2020, due to COVID and numerous precautions put in place for the safety and wellbeing of our community, we had to revamp how holidays were to be observed. Daughters of Sarah Community for Seniors Religious Coordinator, Rabbi Beverly Magidson was able to easily adapt and find new ways to meet the spiritual and religious needs of our residents.
Throughout 2020, in the midst of all of the uncertainty and doubt the Pandemic brought, we were always committed to our residents, their families and our staff with our mission as a non-profit, faith based senior community:
To enhance the quality of life, assure the safety and dignity, and foster the independence of those we serve through residential, personal care, health and other services consistent with Jewish values and traditions.
Now as we begin the 2021 holiday season we recommitted to our mission with renewed dedication to ensuring that our residents are able to observe the holidays, within their own home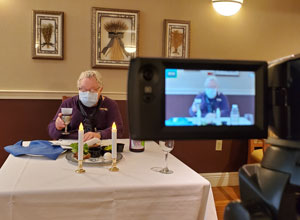 setting and in the way, they want.
As in 2020, videos and one-on-one staffing were instrumental in helping connect residents to scripture during the holidays. Here's a brief overview:
Passover– Rabbi created a very personal Seder experience for residents to enjoy. Videos were produced to lead residents through the Haggadah multifaceted use; groups, couples or an intimate setting for example. Rabbi also prepared a specific Haggadah to accompany the videos.
Rosh Hashanah/Yom Kippur– In past years the Senior Community has brought in a rabbi to lead services in the Nursing Center's Shul. The services brought residents together as a community with familiar prayers and melodies. To ensure our residents as well as our local community didn't feel alone during this time, Rabbi Bev pre-recorded a video of essential prayers and readings to be viewed by residents.  Again, unique machzors' were created, so that residents could follow the service.
Sukkot- It's a well honored tradition to fashion a Sukkah at one's home for Sukkot. Being sensitive to our residents and the fact that this is their home we ensured that this happened. Sukkots were constructed and set-up outside the Nursing & Rehabilitation Center as well as on the Massry's back patio for resident visits.
Simchat Torah- It was another, much needed, light hearted celebration with the arrival of Simchat Torah. Rabbi Bev appropriately chanted the end of the Torah, Deuteronomy 34:5-12, "So Moses the servant of the Lord died there in the land of Moab, according to the word of the LORD." And the beginning of Genesis. It was a lighthearted worship with a little fun throughout the service; as parts of liturgy songs were sung to familiar melodies. In that spirit Rabbi concluded the time by singing the closing hymn, Adon Olam, to the tune of 'Yellow Rose of Texas'.
Hanukkah- As the end of the year approached we held true to our promise of commitment and celebration with the observance of Hanukkah. Each night of 'The Festival of Lights' Hanukkah Rabbi Magidson and CEO, Mark Koblenz, traveled throughout the Nursing & Rehabilitation Center as our Recreation staff gathered residents in very small, socially-distanced groups on each unit.  Nightly, candles were lit with the appropriate blessings and songs were sung.  On the Gold Unit, our COVID-19 isolation wing, blessings were announced over the public address system while nursing staff made certain that doors of Jewish residents were open so that they could listen in.
Several particularly observant residents who expressed interest and were responsible for their own needs were given wickless candles and their own menorahs.  All residents wanting to participate received a paper menorah, made by our recreation department, so they could participate in the 'lighting' aspect of the holiday. As in previous years, there was an electric menorah on each unit and in the main lobby with a table display and materials about Hanukah.
Massry residents were quarantined in their apartments during the celebration of Hanukkah, but we did not let that stop them from celebrating.  Hanukkah bags filled with chocolate gelt and a dreidel, and a copy of the Hanukkah blessings were created. Potato latkes with applesauce and sufganiyot were served to each resident by our dining services department. For each night of Hanukkah, residents received a story, song sheet, poem, or a puzzle.
As we continue through 2021 and the ever changing tides of the Pandemic, we are filled with optimism and a positive outlook for the year and what it holds for us all. The one truth we know, is that we have our faith and friends to lean on in these troubled times; they have gotten us this far and have pulled us through far worse.  Let's forever celebrate what is good:  life, family, friendship, and the love and care of our staff.  May we continue to go from strength to strength!