DC Report
By Douglas Bloomfield
The Hamas-Fatah reconciliation is a marriage of inconvenience that is unlikely to be consummated. There may have been a lot of dancing and hugging and kissing with the recent betrothal announcement, but the two parties are a long way from agreeing on a pre-nup.  It's something they've repeatedly tried and consistently failed to do in the past.
Popular Concept
Egypt was the shadchan, the matchmaker, in this loveless marriage. President Abdel-Fattah al-Sissi's intelligence ministry brokered the deal as part of Egypt's effort to re-establish its leadership in the Arab world.
Reconciliation between the rival factions is very popular on streets of Gaza and the West Bank; not so much among leaders reluctant to surrender or even share power. That's even before getting to the question of how Israel will respond to a unity government of the Islamist Hamas and secular Fatah —Israel's uneasy negotiating partner for several decades — mean to politically link the West Bank and Gaza.
The recent announcement in Cairo was a vague declaration of intent. What's missing is a ketubah setting forth the rights and responsibilities of the couple.
In anticipation of the agreement, Hamas handed over civil control of Gaza, which it seized from Fatah in a bloody civil war 10 years ago. Fatah had won the 2006 parliamentary election, promising to replace Yasser Arafat's corrupt and incompetent rule with clean government. It failed dismally and wanted rid of that responsibility. Governing is not Hamas' forte; it is a terrorist organization that has fought three wars with Israel, fired thousands of missiles, launched hundreds of terror attacks and killed scores of Israelis.
Can These Enemies Merge?
It has shown no real signs of change.  Earlier this year Hamas reiterated its long-standing goal of "liberating Palestine from the river to the sea."
How can the two longtime enemies merge?  Palestinian Authority (PA) president and Fatah chairman Mahmoud Abbas demands Hamas disarm and accept the principle of "one authority, one law, one weapon" —his.  Hamas, he said, wouldn't be allowed to keep its army or weapons and must submit to the rule of a single government.
Any discussion of security forces was put off for an unspecified later date. Published reports say Hamas rejected Abbas demands that its 25,000-man Izzadin Qassam Brigades give up its weapons and rockets, at least until the occupation ends. Any PA attempt to disarm Hamas' army is likely to spark another civil war.
Reform For Hamas
Will the brigades be absorbed into the PA security forces? What about the tunnels Hamas built to smuggle terrorists, arms, drugs and more in and out of Israel and Egypt?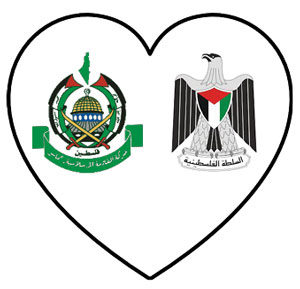 There's no way Israel will agree to anything short of full Hamas disarmament.
The Trump administration welcomed the agreement but said Hamas must abandon armed struggle, recognize Israel, renounce terror and embrace all prior international agreements affecting Israeli-Palestinian relations. That may not be enough for the Netanyahu government.
Peacemaking Could Be Affected
Hamas is still a terror organization with close ties to Iran. The chief negotiator in the reconciliation talks was Saleh al-Arouri, who has spent years in Israeli prisons for terrorism.  He said the deal means all Palestinians forces can "work together against the Zionist enterprise," the Times of Israel reported.
Some of Israel's friends in the Congress may demand putting the PA on the State Department terrorist list if it absorbs Hamas. Such a move will have great support from pro-Israel lobbyists, evangelicals, conservative Jewish donors, hard line supporters of Israel and opponents of the two-state approach.
Opinions are divided on how the agreement would affect peacemaking.
It has handed Israeli Prime Minister Benjamin Netanyahu another excuse —as if he needed one —to step away. Hamas remains a terror organization in the eyes of Israel, the United States and many others.  "Reconciling with mass-murderers is part of the problem, not part of the solution," his spokesman said.
Catch 22
There's a Catch 22 quality to the whole question.  Netanyahu and others have long argued that there is no partner for peace because the Palestinians are divided between the secularists and the Islamists. If they can't make peace with each other, the argument goes, how can they make peace with Israel? But if they make peace with each other, how can Israel make peace with a PA whose major partner sworn to its destruction?
The responsibility will be on the unified PA, if it ever even comes about, to prove it is ready, willing and able to make peace with Israel.
Unresolved Issues
It matters less than Netanyahu and Abbas lack the courage to make the historic decisions for peace than that a new generation of leaders emerges that is ready to travel that path. Can that be possible given the history or Hamas? The PLO was in a similar position 30 years ago.
A London-based Arabic newspaper reported Hamas agreed not to conduct terror attacks against Israel as part of the agreement, but there was no confirmation from Hamas, which is the only source that counts and even then is not always reliable.  The report also said each side has a veto on deciding to make war or peace with Israel.
The fate of Hamas' Izzadin Qassam Brigades is only one of the many unresolved issues left to future discussions. What will happen to Hamas' weapons factories, labs, drones, naval commandos, tunnels and arsenals?  Who will control the border crossings and seacoast?  Other questions include lifting PA sanctions on Gaza, the status and compensation of civil government employees. Who gets to drill in the offshore natural gas fields?
Israel will insist on the release of Israeli citizens held by Hamas and the remains of fallen IDF soldiers before dealing with the recombined entity. It has the power to block any agreement with its embargo and control of crossing points. That means implementation of any reconciliation agreement, including links between Gaza and the West Bank, will need Israel's approval.
Who will run the new PA? Abbas is 83 and in the 12th year of a four-year term.  There will need to be new presidential and parliamentary elections. Eligibility of candidates and voters are more critical issues that will need to be resolved in this very difficult marriage of inconvenience.