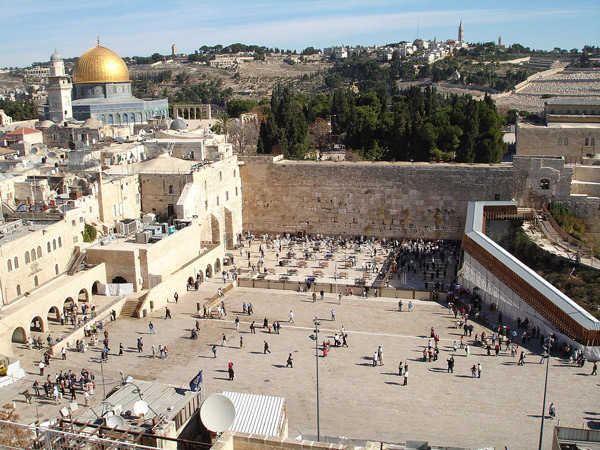 DC Report
By Douglas Bloomfield
Is Donald Trump setting up the Palestinians to take the fall when he fails to deliver the "deal of the century" for peace between them and Israel?
Recognizing Jerusalem as the capital of Israel without acknowledging the city's eastern sector as the future capital of a Palestinian state is a strong indicator. And a slap at those who seriously seek peace. Unlike recent presidents, Trump has so far avoided endorsing the two-state concept and is unlikely to do so in the peace plan being written by his administration, according to published reports here and in the Middle East.
Proposal Suggests State Minus
The proposal, still in the formative stages, is being shopped around with Israeli, Palestinian, Saudi, Jordanian, Egyptian and Lebanese leaders by the Trump team headed by presidential son-in-law, Jared Kushner.  Emerging details sound as if it was drafted in Prime Minister Benjamin Netanyahu's office.
What we're learning so far is that it does not call for separate Israeli and Palestinian states, side-by-side with their capitals in the western and eastern sectors of Jerusalem , respectively.  
Instead, Palestinians would get something more closely resembling Netanyahu's concept of a "state-minus," with limited sovereignty. Ahmed Tibi, a Palestinian member of Knesset who reportedly has been briefed by Palestinian officials in Ramallah, told the New York Times that the Palestinian entity would have only "moral sovereignty" and its territory would not be contiguous, would have a capital in a Jerusalem suburb like Abu Dis, settlements would be largely untouched and there would be no right of return for Palestinian refugees.  
Trump will  likely soon sign another six-month waiver , delaying moving the U.S. embassy from Tel Aviv to Jerusalem, as have previous presidents for two decades. 
West Jerusalem Only?
Most Jews and Israelis will welcome Trump's recognition of Jerusalem as the capital, but it is not without risk. By focusing on acknowledging the western part of the city that has been under Israeli control since the 1948 war of independence, it may be seen as rejecting Israel's claims to the eastern sector, which was captured in 1967; in 1980 Israel declared the entire city its "united and eternal capital," which no country, including the U.S., has recognized.  
Israeli police and security forces are preparing for a violent Palestinian reaction to Trump's announcement, and American diplomatic facilities in the Arab and Muslim world have been put on notice to be ready.  
A Palestinian delegation flew to Washington to tell Kushner and administration officials personally that recognizing Jerusalem as Israel's capital would "kill" peace negotiations and Palestinians would declare that the Trump administration  could no longer be considered "an honest broker" for peace, Israeli media reported.
An Empty Threat
That is an empty threat. There have been no negotiations for more than three years and if there are to be any serious talks, the Palestinians will need the U.S. because no other country has needed influence with Israel to help reach any agreement.
Jordan's King Abdullah II was also in town to dissuade Trump, something he successfully did early this year when the president had been expected to announce the embassy relocation at the beginning of his administration.  
Risky Political Moves
Trump's decision is politically motivated. There's no way it will improve the chances for peace. Quite the opposite.  It changes nothing on the ground and comes at the expense of America's diplomatic and strategic interests throughout the region. It may give the ego driven president bragging rights to claim another "promise kept," but at what price?  It will play well with his Jewish supporters and especially his much larger and more important evangelical base. There is little if any pro-Palestinian element or peace camp in either of those constituencies.
It only reinforces his reputation as anti-Muslim, especially coming days after he retweeted anti-Muslim videos from a far right group, Britain First, that welcomed his support for their racist agenda. And this week the courts gave temporary approval to his controversial Muslim travel ban.
Recognizing Jerusalem or even moving the embassy seems like a very risky move for someone who claims to be serious about negotiating the peace "deal of the century."  It suggests he is preparing excuses for eventual failure, which is certain if the American proposal that emerges is for a state-minus that is no state at all.
Deal Maker?
Nearly all of America's friends and allies support the two-state solution, as do a plurality of Israelis and Palestinians. 
Russia announced earlier this year that it would "view" West Jerusalem as Israel's capital, but in the future  "context" of "East Jerusalem as the capital of future Palestinian state." That is similar to the positions of previous U.S. administrations, but Trump is not there, at least not yet.
Trump's Jerusalem gambit is an incentive for Netanyahu to dig his heels even deeper, and it tells Palestinians the deck is stacked against them. It should also go over well with the president's supporters who never wanted him to succeed in negotiating peace because they don't want to see a Palestinian state. 
For Trump personally, he can forget about any claim to be a world-class deal maker; instead it will be another failure. Just like the rest of his dysfunctional presidency.