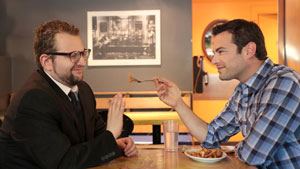 SCHENECTADY– The Schenectady Jewish Community Center will offer a dinner along with its film festival feature, "Chewdaism." The meal will be available for curbside pickup on the day of the film's discussion, Sunday, March 21, from 3:30 to 4:30 p.m. Discussion begins at 7:30 p.m. The film is available for viewing after registration.
The documentary follows two native Montrealers as they eat their way through the historical cultural history of Jewish Montreal over the last 100 years. During their journey, they take on Jewish eateries and farm to table kosher dishes.
The film's discussion will be led by local self-proclaimed foodies, Ann Cramer, Rabbi Eligberg of Temple Israel in Albany and Montreal natives, Esta and Henry Skoburn. Cramer is the daughter of Lena and Irving Gershon, founders of Gershon's Deli. She is a member at Congregation Gates of Heaven and previously served on the board of various local organizations. Eligberg was born and raised in Montreal, Quebec and is rabbi at Temple Israel. Esta Skoburn is a second generation Montrealer.
The meal includes a bagel with cream cheese and butter; cucumber, onion & tomato slices; whitefish salad; poutine fries and an apple maple blondie. Each meal is $14 and must be pre-ordered by Thursday, March 18. Meals are certified kosher by the Vaad Hakashrut of the Capital Region.
Meals and films may be purchased separately. Information and registration for the film or dinner may be obtained at www.schenectadyjcc.org/events/jewish-film-festival/ or by contacting the Jewish Cultural and Adult Programming Director, Judy Ben-Ami at judyb@schenectadyjcc.org.