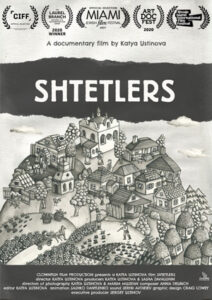 SCHENECTADY–Congregation Agudat Achim will showcase the award-winning documentary, "Shtetlers," online May 30-June 6, and will end the availability of the documentary with a Zoom interview featuring Russian-born film producer and director Katya Ustinova on June 6 at 7 p.m. The documentary and meeting with the director are open to the community.
"Shtetlers," traces the story of small Jewish towns in the former Soviet Union where traditional Jewish life continued for decades after disappearing everywhere else. These towns or shtetls were once home to the largest Jewish population in the world. Only a few shtetls survived the Holocaust, and those were all located in the territories of modern Ukraine and Moldova. The Jewish religion, the Yiddish language, ritualized cooking, and elaborate craftsmanship were practiced, treasured, and passed down through generations. The film follows nine very different people, now scattered around the world, who once belonged to a shtetl community. According to program organizers, their memories serve as a farewell to the vanished world of the shtetl, a melting pot of cultures that many Jews once called their home.
Ustinova is a Russian born documentary filmmaker living in New York City. Prior to becoming a documentary filmmaker, Ustinova worked as a TV producer, script writer, and reporter for almost 10 years She received her master's degree from the School of Visual Arts in New York, where she was awarded the Paula Rhodes Award for exceptional achievement in documentary filmmaking.
The film won the 2020 Laurel Branch National TV & Documentary Film Award, was the official selection of the 2020 Calgary International Film Festival and the 2021 Miami Jewish Film Festival, and it was presented at the Rhode Island International Film Festival and the 2020 Art Doc Fest.
Registration for online viewing may be obtained by contacting Congregation Agudat Achim at 518-393-9211.
Cost will be $18 per household of two or more, or $10 per single household (both fees include the Zoom conversation with film director). After registration details will be provided on how to access the film online as well as a Zoom link to meet Ustinova.