By Douglas Bloomfield
DC Report – Jair Bolsonaro, Brazil's newly elected president, calls Donald Trump his role model, even to the point of declaring his intention to move his country's embassy from Tel Aviv to Jerusalem. He made that vow in an interview with Israel's largest circulation newspaper, Israel Hayom, adding that, as Trump did, he would visit Israel early in his term, though he gave no indication that Saudi Arabia would also be his first stop.
Similar Outlooks?
The two presidents have much in common, personally and politically. Some of their simpatico may be linked to the efforts of a Jewish casino billionaire- and leading Trump supporter- to open Brazil to gambling.
That commonality may prove good for the government of Prime Minister Benjamin Netanyahu, but not for most American Jews, who are unlikely to appreciate the apparent dislike for democratic institutions shared by the two presidents.
Both have been married three times and have five children. However, Bolsonaro, who is nine years younger than Trump, is a former paratrooper who spent 17 years in the military and 27 years in elective office as a member of his country's Chamber of Deputies. Trump, of course, is 0-for-0 in both categories.
The Adelson Influence
Trump "is doing a brilliant job," Bolsonaro told Boaz Bismuth, chief editor of Israel Hayom, "so outstanding in fact that there are many things I use as examples for what I'm doing in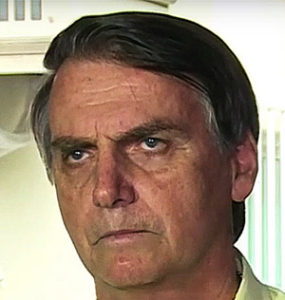 Brazil."
It was another first for Bismuth, who also scored the first Israeli interview last year with the newly elected Trump. Getting access no doubt was helped by the fact he works for Trump's largest donor, Sheldon Adelson, the casino mogul many times wealthier and more successful than the American president. Heavy pressure from Adelson is considered major influence in Trump's decision to recognize Jerusalem as Israel's capital and relocate the embassy.
Trump quickly called Bolsonaro to congratulate him on his victory and both described the conversation as warm and friendly. They are expected to meet soon.
Adelson had to be pleased with the rapport between the two presidents and for more reasons than relocating embassies in Israel. He has been lobbying the Brazilian government to end its 77-year-old ban on gambling. Adelson has visited the country at least twice since last year to talk about building a $8 billion casino resort there, according to Casino.org. He was quoted telling a local media outlet, Valor, that he was there "to consider investing in one or more integrated resorts." The casino industry is a very popular one so it's no surprise that he wants to get his teeth sunken into another resort. In the meantime, those who can't quite make it to one of his resorts can use sites like Casino-bonus.me.uk to get their gambling thrill.
Precedent
Legislation is pending in the Chamber of Deputies to legalize gambling; Bolsonaro is reported personally opposed to do that at the national or federal level but open to letting each state decide for itself. This somewhat reflects other changes around the world about this subject, such as how is the the Asian Gambling Market changing on and offline.
It is not known whether Trump, a former casino mogul himself, brought up the gambling question in his congratulatory phone call, or whether Adelson will ask him to do that when the two presidents meet. Imagine if they have a few games of poker together using an online casino similar to the likes of this Casino-Korea or others, who do you think would have the best poker face? Bolsonaro takes office in January There is precedent, however. Trump intervened on his big donor's behalf to "persuade Japanese Prime Minister Shinzo Abe" to allow Adelson to open a casino in the country, according to Pro-Publica.
Adelson dined at the White House the evening before he met Abe for breakfast. The prime minister then joined the president for a weekend of golf and talks in Florida. ProPublica reports "During a meeting at Mar-a-Lago that weekend, Trump raised Adelson's casino bid to Abe, according to two people briefed on the meeting…Trump told Abe he should strongly consider Las Vegas Sands for a license." An Adelson spokesman denied the claim. Imagine if these two casino moguls planned to do some business together, they might very well be able to create some of the best online casinos in the UK and other countries have ever seen!
Bolsonaro, whose middle name Messias means Messiah in Portuguese, visited Israel two years ago and was baptized in the Jordan River by a fellow congressman and evangelical, although he is Catholic, Reuters reported. As with Trump, evangelical Christians played a major role in Bolsonaro's election.
The president-elect told Israel Today he plans to move Brazil's embassy to Jerusalem early on, and "You can count on our vote in the UN." He also seems to emulate Trump's Palestinian bashing. He said the Palestinian Embassy in his country was built too close to the presidential palace and "we intend to move it." Moreover, he added, since Palestine is not a state it has no "right to an embassy."
Bismuth, an unabashed Trump admirer, was promoted to the top job at the Adelson-owned newspaper when his predecessor, Amos Regev, was fired after allowing senior writers to criticize Netanyahu, according to Israeli media reports. The paper is known for its fawning coverage of both Netanyahu and Trump.
Fears
Bolsonaro told Bismuth Trump "is doing a brilliant job…so outstanding in fact that there are many things I use as examples for what I'm doing in Brazil."
Prof. Christopher Dick of the University of Michigan tweeted that under Bolsonaro "we can expect tribal genocide, torture of dissidents, and climate altering destruction of Amazon forest. This is a nightmare scenario. I hope I am wrong."
Brazil has been known for its "soft power" approach to resolving international disputes, notes Harold Trinkunas, an authority on foreign policy at Brookings Institution and Stanford University. But that is likely to end.
Off-putting Words, Behavior
Bolsonaro has been described as a highly polarizing figure, a man with authoritarian tendencies, disdain for the present international order and hostility toward the media. He has spoken of his "desire to get rid of democracy altogether, told a female lawmaker that she was too ugly to rape, said it would be better to be dead than gay and denigrated the country's black minority," according to the Washington Post.
Like Trump, he wants gun restrictions relaxed, saying more guns mean less crime. He also has announced his intention to bring a number of retired generals into top levels of his government.
Trump is no stranger to Brazil. He has extensive business interests there, including a Trump Hotel Rio de Janeiro and a Trump Towers Rio, which are embroiled in a criminal investigation in Brazil, according to Washington Post and Americanprogress.org. off puttiThe Trump Organization denied it is not the target of the probe.
Bolsonaro is expected to pivot Brazil's foreign policy and trade back to the United States and away from his predecessors' focus on China and Russia. Brazil has the world's eighth largest economy and is fifth in population and size.
The two presidents appear to have similar approaches to environmental protection.
New Scientist, a London-based weekly science newsletter, said Bolsonaro's election could be an environmental "disaster" as he "looks likely to further weaken protections for the Amazon rainforest and make the goal of limiting global warming to under 2°C even harder to achieve."
Bolsonaro and Trump should get along very well.