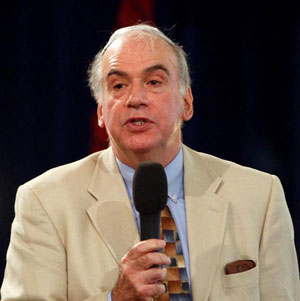 The  Dr. Stephen Berk "virtual" lecture series, "Four (more) Towering Figures Who Changed the World," sponsored by The Jewish World newspaper and the Ayelet Virtual Traveling University will continue Monday, Feb. 22, when Berk will review the lives of Juan and Eva Peron.
The concluding lecture in this series on Monday, March 1, will focus on Abraham Lincoln. Berk offers post-talk question and answers each session.
Berk is a professor of history at Union College in Schenectady and is the Henry and Sally Schaffer Chairman of Holocaust and Jewish studies. He is also the recipient of the Florence B. Sherwood Chair in History and Culture and acts as a consultant to the Wiesenthal Holocaust Center. A native of New York City, Berk received his bachelor's degree in history from the University of Pennsylvania, his master's degree from the University of Chicago, and his doctorate from Columbia University.
The program cost for all four programs was $80. Session size is limited. Missed the first programs? Not a problem. Recorded sessions may be available. Sign-up is at https://ayelet.com/berk-feb-albany/ Jeff Rubtchinsky, CEO of Ayelet Tours, at jeff@ayelet.com can provide details.